You Can't Go Wrong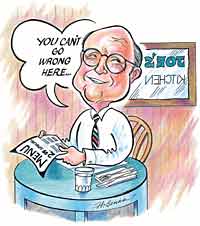 Enjoy Bob Cudmore's humorous and poignant tales of life in Nero, a declining Upstate New York mill town, where the creek used to smell and the mills have moved south. It's a place where fault-finding is so common that "I don't blame you" is a compliment.
The City of Nero was named for an arsonist Roman emperor because all the good classical names had been commandeered by other upstate communities by the time Nero was founded. You'll laugh and you'll cry when you visit Nero, the city where cheerfulness is not a common emotion.
Bob Cudmore's book about Nero, You Can't Go Wrong: Stories from Nero, NY & Other Tales, may be purchased by mail. Please send signing instructions and a check for $9.00 to Nero Publishing, Bob Cudmore, 125 Horstman Drive, Scotia, N.Y. 12302. The book retails for $5; the mail order price includes postage, handling and sales tax if applicable.
The book is available at Old Peddler's Wagon, 175 Church St., the Book Hound, 16 East Main St. in Amsterdam, other bookstores and online at Amazon.com
In You Can't Go Wrong, you'll find that people in Nero speak their own language -- "you can't go wrong," describes a $2.99 dinner special; "it never fails," acknowledges the inevitability of life's catastrophes and "you've got to take care of your own" are words to live by in any multi-ethnic location.
Illustrations by Jeanne A. Benas of Benas Art Studio, Latham, New York. Original music on the audio version by John Sciolino and John Stickle.
You Can't Go Wrong Podcasts
Hear an audio version of Bob Cudmore's satirical book by downloading or listening to these podcasts.
To add the "You Can't Go Wrong" podcast feed to your iTunes player or other podcast software, please use this link.
To download individual mp3 files, right click or ctrl+click on the "Download MP3" link and choose Download/Save As...