Mary Cudmore Slideshow
Weight Watchers produced a heartfelt audio/video presentation in honor of Mary Cudmore that was shown at staff meetings in Buffalo, Connecticut and New Jersey in the fall of 2001.
Mary is seen smiling and happy with many of her Weight Watcher friends and the music used in the background (which we are not able to reproduce here) was an instrumental version of the song Unforgettable.
The Mary Cudmore audio/video presentation was produced by Victor Bilcik using pictures provided by Weight Watchers and the Cudmore family.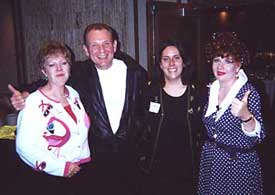 The picture shows (left to right) Mary's friend Mary Ann Marshall, Jerry Redden of Weight Watchers, Mary's daughter Kathleen Cudmore Bokan and Sharon Riguzzi of Weight Watchers.
The photo was taken in Buffalo following the Weight Watchers Innovations presentation in October, where the Mary Cudmore slide show was seen by Buffalo and Erie staff members, who have always been among Mary's greatest admirers.
The theme of Innovations this year was The Fifties. In case you didn't notice, Jerry is dressed as The Fonz and Sharon portrays Lucy Ricardo. As Sharon said, if Mary had been there, she would have played Ethel.
View the pictures in the Mary Cudmore Slide Show.