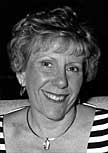 Mary Cudmore, my wife of 34 years, died March 4, 2001 after a three year battle with colon cancer. She was known to thousands of people from her work as a Weight Watchers trainer. She was witty, inspiring and beautiful. Mary's greatest fear about dying was that she would vanish, disappear.

Life Story | Illustrated Tribute
Weight Watchers Tribute | Mary Cudmore Award
Bob Cudmore wrote:
Kit Morse and Mary Cudmore were childhood friends. Mary, Kit and their friend Pat Folz were together just ten days before Mary died in 2001. Kit died in April 2003. For awhile, we have archived your messages about Mary to that we can share some messages about Kit. Donations in Kit?s name can be sent to: The American Cancer Society, 30 Speen Street, Framingham, MA 01701 Donation notification can be sent to:Christopher Morse, 232 7th Street, Brooklyn, New York 11214
---
Chris Morse wrote:
(Chris is Kit's brother.) Many people asked about Kit's writing after the memorial service. Here is a sample: If I had wheels instead of feet And roses 'stead of eyes I'd drive down to the flower show And maybe, win a prize! Love and thanks to all, Chris
---
Ron Folz wrote:
Ron is husband of Pat Folz; they were friends of Kit Morse for years. Ron read a longer version of the following at Kit's memorial service in April 2003. I Am Not Going To Miss Kit I am not going to miss visiting Kit and having her ask, "While you're here, would you mind . . .?" She was one of the best finaglers known to mankind. I am not going to miss spending Halloween on Kit's porch setting up ghouls and characters for the neighborhood children's fright, only to spoil them with goodies, much to their delight. I am not going to miss Kit's New Year's Eve dinners with too much food and wine spread on a crowded dining room table, only to leave before midnight, while still physically able. I am not going to miss Kit a heck of a lot. As John Wayne once said in a movie, "Like hell I'm not!"
---
Kathleen Cudmore Bokan wrote:
I have heard stories of my Mom (Pritch) and Kit since I was a little girl. From wearing black slips to parochial school to more recent adventures with Pat Folz riding the surf in the oceans of Cape Cod. It wasn?t until a few years ago that I really got to know Kit from her frequent visits with my mother. They always were having a laugh together and doing kooky things. One day I came home to find my Mom wearing Moon Boots and her bathing suit - I knew Kit couldn?t be far behind. They giggled and mentioned something about the hot tub and snakes. It was great to see my Mom and Kit act as they probably did back in high school and reminded me of myself with my friends. Kit had such a good vib about her, whenever she was around you wanted to be in on the conversation. I will miss her very much, as will all her friends and family. I think we all can be assured that my Mom was waiting for Kit with a black slip and a pair of moon boots to start their next adventure.
---
Barbara Finnell wrote:
How to describe my feelings about Kit, my most precious and first-born niece. I first saw Kit when she was three months old. Her parents had just returned from Tucson where Steve was stationed during the latter part of the war. They brought with them their burbly, bubbly, giggling enchanting infant daughter. It was love at first sight. Watching her grow into a delightful, insightful woman was a privilege. She became a very dear friend, She called me in February on my fifty-first wedding anniversary and recalled how thrilled she was to be invited to the wedding especially since her younger brothers had to stay home. She was a grown-up six and a half. year old. I'm a widow now but that day is still special to me. Kit described every detail of that day including the dress I wore and her first sip of champagne (which went up her nose much to the amusement of her great grandmother) You all know that Kit had the special gift of friendship which extended to her family. It is still hard to believe that I can no longer pick up the phone, hear her cheery voice and talk to her about everything for a very long time. That wonderful voice has been silenced leaving a great void in my life. To the end she displayed the grace and humor that epitomized her personality. Thank you for giving me the opportunity to express my love and respect for Kit, This memorial is lovely idea. You have all been such wonderful friends, Sorrowfully, Barbara Finnell aka Aunt Bobbie - Auntie B.+
---
Mary Cudmore Tribute

Mary Cudmore and Muffy the poodle, Easter 2000
Note Mary's ears (she had holiday hats for all seasons), her "Tickle Me Elmo" doll and the big shoes giving Mary a real lift.

Mike Bokan, Kathleen Cudmore, Bob Cudmore Jr. and Muffy the Poodle

Mary and Bob Cudmore in 1995 at June Saalminen's daughter's wedding

Bette Greenfield

Fred Greenfield

Mary Cudmore, Dave Manion, Pat Manion, 1999

Pumpkin Carving Contest, Halloween 2000
Andrea Marshall and Derek Scholes at left, next to Mary; Fred Greenfield, Kathleen Cudmore, Mike Bokan, Mary Ann Marshall, Alan Marshall

Mary and Weight Watchers spokeswoman Sara, Duchess of York

Kit Morse, Pat Folz and Mary on February 24, 2001, two days before Mary went to the hospital!

Jean Maury, Arlene Cudmore, Mary Cudmore, 1990

Mary Cudmore and Vera Cudmore, Christmas, 2000

We were praying for a miracle to restore her health, but the miracle was the way Mary lived her life.
Mary Cudmore was vital, optimistic, caring, beautiful and motivational.



Mary raised two wonderful children, Robbe and Kathleen, who will always miss their mommy. Robbe is working on his doctorate in neuroscience at Brandeis University. Mary always wanted to be able to say, "My son the doctor." Kathleen has a Syracuse University education and is at General Electric editing manuals for turbines. Kathleen and her love Mike Bokan live in a beautiful home, the scene of Mary's last holiday gatherings. Kathleen and Mike will be married in September. Mary prayed to be at that wedding. Instead, the miracle was that Mary lived to see Kathleen and Mike happy together and in their new home.



Mary kept everyone rolling in the aisles with jokes, which she sent by mail and email, and comments, such as that some people are "stubborn as ice" and how she was proud to have "perky boobs" following breast reduction surgery.



Mary was her husband Bob's special girl, his twerpy girl. Bob is big, Mary was small. Bob is low key, Mary was outgoing. Bob misses his girl. They had hoped to grow old together, the miracle was that they made each other happy for 34 wonderful years.



Mary loved a bargain and kept the economy moving with frequent trips to the jewelry store and consultations with interior decorators, contractors and furniture salespeople.



Mary kept kinship alive with sister Bette and nephew Fred, who was like a brother to Mary. When Bette's children were small, Mary was there to help. Mary visited Bette and Fred whenever work took her to Connecticut. Fred became part of Mary's famous celebrations, such as the Easter Egg hunt and the Halloween pumpkin-carving contest.



Mary took great pleasure in television, books, movies and music.



Mary loved her friend Pat Manion, a bond formed 27 years ago in childbirth when Mary's Kathleen and Pat's Jeff were born. Pat's husband Dave had a special, bun-pinching relationship with Mary, and Pat's children thought of Mary as their second mom. The miles kept Mary and Pat apart, but the miracle was they always stayed close.



Mary inspired her friend Mary Ann Marshall, who responded with loving care and miraculous back rubs. Mary became a great favorite of Mary Ann's husband, Alan, and their children. The plan for a Rome vacation for Mary did not succeed, but the miracle was the Marshalls were steadfast through the end of Mary's earthly life.



Mary loved men in tights, especially Superman.



Mary talked every day with friend and fellow Weight Watchers trainer June Salminen, sharing daily life's ups and downs. Mary was a beloved part of the WW training team-Sharon Riguzzi, Jeanne Vigneau, Kathy Grace, Stephanie Delvall, Maggie Jerchau, Wendy Gans and Sharon's secretary Ann Aylman.



Mary motivated thousands of Weight Watchers lecturers and members, always concerned, diligent, optimistic and honest. Mary cared. Mary drew smiley faces on her flip charts.



Mary loved her poodle Muffy, her junior caretaker, who sat with her through nights of frequent coughing.



Mary rode a donkey and a horse at Saratoga racetrack.



Mary kept friendship alive with childhood friends, especially Kit Morse. The miracles were that only four months ago Mary went on a wonderful Florida vacation with Kit and a week and a day before her death, Mary sat in her hot tub with Kit and their friend Pat Folz.



Mary did everything she could to fight her illness. She went from doctor to doctor, read about cancer and studied postings from her colon cancer email group.



Mary cared for Bob's sister when Arlene was dying from cancer.



Mary helped Bob's Aunt Vera learn how to speak up for herself. Mary and Vera were special friends and enjoyed sharing books and talking about life.



Mary lost her bathing suit on a water slide at Walt Disney World.



Thank you, Mary, for your thousands of good deeds, for years of joy, laughter and hard work.
We'll never forget our Mary.
Mary Cudmore January 24, 1945 - March 4, 2001
---
Life Story

Mary Cudmore in Florida, visiting her friend Kit Morse, November 2000

Mary and Kathleen Cudmore in 1973. Yes, there was a time when Mary was not a blonde

Mary and Robbe Cudmore in1973.

Frank and Rose Pritchard, Mary's parents, about 1970. For many years the Pritchards lived at 3 Pritchard Lane, Westport, Connecticut

Bob and Mary's wedding, August 20, 1966.

Going to the Holly Ball in Westport, 1961 or 1962. Nancy Renzulli Atwood, Cathy Neary McGuirk, Kit Morse.

Mary in a snowsuit, about 1949. Mary's sister Bette really likes this picture of her little sister.

Mary Cudmore: Trainer, Motivational Speaker
Mary Pritchard Cudmore, 56, of 125 Horstman Drive, Glenville, died March 4, 2001 at Ellis Hospital following a three year struggle with colon cancer.

Since 1991, Mrs. Cudmore was an area trainer for Weight Watchers International, training hundreds of service providers for the company in a region that stretched from Buffalo, New York, to Connecticut. She was regarded as an exceptional motivational speaker and manager, expert in one-on-one and group management and training sessions.

From 1988-1991, she was Albany area manager for Weight Watchers and from 1981 to 1988 she was a Weight Watchers leader. From 1976 to 1980, she was a realtor with Mary McDermott Realty in Pittsfield, Massachustts.

Mrs. Cudmore attended Empire State College and Boston University School of Nursing. She was a graduate of Hickox Secretarial School in Boston and the Dale Carnegie Institute. A native of Westport, Connecticut, she was a graduate of Central Catholic High School in Norwalk, Connecticut. She was a parishioner of St. Joseph's Roman Catholic Church in Scotia.

She is survived by her husband of 34 years, Bob Cudmore, a public relations official at the State University of New York who is also a radio and television performer, author and newspaper columnist.

They have two children: Bob Cudmore, Jr., of Somerville, Massachusetts a doctoral candidate in neuroscience at Brandeis University and Kathleen R. Cudmore of West Charlton, a technical editor at General Electric.

Mrs. Cudmore is also survived by her sister, Bette Pritchard Greenfield of Fairfield, Connecticut and two nephews, Fred and Lewis Greenfield, and two nieces, Brooks Ann Greenfield and Susan Greenfield. She also leaves an aunt, Vera Cudmore of Amsterdam.

Donations in Mrs. Cudmore's memory may be made to St. Joseph's Roman Catholic Church in Scotia or the American Cancer Society.



Mary met many people who are living with colon cancer during in the past three years. Information on colon cancer and other interesting information can be found at Jerry Earnhart's web site.
---
Weight Watchers Tribute
THE STORY OF
A Trainer,
A Motivator,
A Believer in the Strength of the Human Spirit

Mary Cudmore at Mother's Day, 2000. What a smile, and look at those nails!

Mary Cudmore greets a Member.

Those of you in the northern and western portions of our Weight Watchers region are probably aware that we lost one of our most talented and effective trainers to the ravages of colon cancer in March of this year. Mary Cudmore, who lived in the Albany, New York area and served as an Area Trainer for many years, was one of those "larger than life" individuals. She was a little lady in stature but she had a big voice, a big smile and a great big heart. She loved to see people realize their potential and she was very good at helping them do just that.

One of Mary's most frequent messages was "Never give up!" She often spoke of how, over the course of several years, she joined Weight Watchers over and over and over again - 18 times in all! Sometimes she would make a little progress on the scale, sometimes not. Sometimes she would maintain a little of what she lost during the previous membership, sometimes not. But she would not give up! The desire to be thin was Mary's. The belief that she could be had to come from Weight Watchers. But Mary kept trying - and finally - she got it! Because she didn't give up, she lost a total of 50 lbs. and lived many years as a thin person and as a powerful motivator of others.

So it was that in Mary Cudmore the amazing, beautiful, life-confirming story of Weight Watchers was repeated over and over again.

We asked a lot of Mary as a trainer and as an example of what the Weight Watchers organization and its people can do. In the end, all she asked of us was that we not forget her. It's safe to say that if you knew her, you would not forget her!

Thanks Mary - for many things - but most especially for not giving up!

Jerry Redden, Weight Watchers
<<---Back