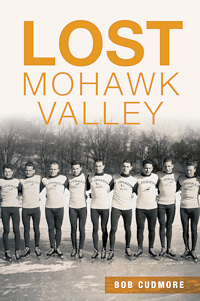 </strong>

Lost Mohawk Valley

By Bob Cudmore

Life in the Mohawk Valley today is vastly different from generations ago. Long gone are the factory whistles calling workers to their shifts in old mill towns like Amsterdam. Fort Plain still benefits from little-known inventor William Yerdon, and baseball player George Burns, with ties to Gloversville and Utica, was so skilled that fans called left field "Burnsville."

Few realize that a local artist shared a special bond with musician John Philip Sousa. The Tamarack Playhouse was once the venue of spectacular theatricals, and as time goes on there are fewer alumni to remember Amsterdam's Bishop Scully High School.

In Lost Mohawk Valley (History Press, Sept. 21, 2015) Bob Cudmore shows that while lost, these and other compelling stories no longer need be forgotten.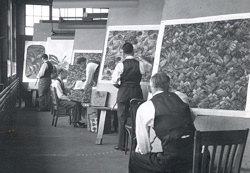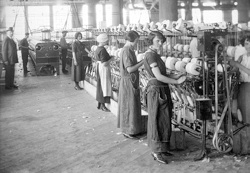 BOOK LAUNCH
Copies of Lost Mohawk Valley are available at Liberty Fresh Market, 4867 State Highway 30 in Amsterdam, The Book Hound, 16 East Main. St. in Amsterdam, Mysteries on Main at 144 West Main St. in Johnstown, Open Door Bookstore at 128 Jay St. in Schenectady, Barnes & Noble at Colonie Mall and online at Amazon.com
For a signed copy of Lost Mohawk Valley (History Press, 2015), you also can order by mail. Please send a check for $26.99 made out to Bob Cudmore, 125 Horstman Drive, Scotia, N.Y. 12302. The book retails for $21.99; the mail order price includes postage, handling and sales tax if applicable.
Cudmore was also the author of the 2013 History Press book Hidden History of the Mohawk Valley: The Baseball Oracle, the Mohawk Encampment and More and the 2011 History Press book Stories from the Mohawk Valley: The Painted Rocks, the Good Benedict Arnold and More.
He writes Focus on History, a weekly column for the Daily Gazette. He and Steve Dunn co-produced the WMHT-TV documentary about Amsterdam, Carpet City, in 2000.
That same year, Cudmore published You Can't Go Wrong: Stories from Nero, N.Y. & Other Tales, a satirical book on Upstate life. The audio version of that book is available for download as a series of podcasts on this Website.
A radio personality, Cudmore anchored the morning show on WVTL radio in Amsterdam from 2004 to 2014. From 1980 to 1993, he hosted the nightly talk show on WGY in Albany.
For more information (or to arrange interviews or speaking engagements) contact bobcudmore@yahoo.com or phone 518 346 6657