Amsterdam Area History Stories
From Focus on Fulton and Montgomery Counties,
The Saturday Gazette

Table of Contents

St. Mary's Hospital: One Hundred Years Old (4/19/03)
Downtown Library an Important Part of Amsterdam's Cultural Life (3/31/03)
Frank Pabis Was Late 20th Century Industrialist (3/13/03)
Peter Montenaro: An Active Life (2/28/03)
Locust Avenue Mansion A Window on the Past (1/10/03)
Traditions Created by Amsterdam Bandleader Live On (1/10/03)
Arlene Fontana -- Amsterdam Native Was Theater,
Night Club Star (11/24/02)
Father of Country Visited the Mohawk Valley (11/10/02)
93-Year Old Amsterdam Man Recalls His Life
as a First Generation American (10/27/02)
Amsterdam Industries in the 1940s --
Carpets, Brooms, Underwear and More (9/29/02)
Adirondack Camp Was Pleasant Prelude to Wartime (9/15/02)
East End Memories (9/1/02)
When the Milkman, Baker and Iceman Made House Calls (8/18/02)
Glove Cities Colonials: 40 Years of Football (8/4/02)
West Hill School: A Canajoharie Landmark (7/21/02)
The Fonda, Johnstown and Gloversville Railroad (7/7/02)
Vera Cudmore: She Had Many Friends (6/22/02)
WENT Radio in Gloversville/Johnstown (6/22/02)
Broadcasting Legend Bill Pope of WCSS in Amsterdam (5/26/02)
Artist Rufus Grider-chronicled Mohawk Valley History (5/12/02)
Cranesville Church: A Local Landmark (4/28/02)
Anthropologist Studied Amsterdam's Mill Decline (4/4/02)
Her Name Was Mary: An Immigrant's Story (3/21/02)
Carpet Mill Book Recalls World War Two (3/4/02)
Ames: A Village Beloved by E.B. White (2/20/02)
Kellogs and Miller Linseed Oil Mill: Part of Amsterdam's Past (2/3/02)
Amstedam Collector Tom Foster (1/6/02)
The Elwood Museum: Amsterdam's Attic (1/6 and 6/9/02)
Downtown Amsterdam at Christmas (12/23/01)
Amsterdam's Board of Trade (12/9/01)
Farms Around Amsterdam (11/25/01)
Amsterdam's Benedict Arnold (11/11/01)
Amsterdam's Historic Church Street (10/28/01)
The Amsterdam Oratorio (10/1/02)



St. Mary's Hospital: One Hundred Years Old
April 19, 2003
"I went to St. Mary's Nursing School. In my day, a lot of us did, just kids, who dreamed of being a nurse and one day a mother and a wife. I loved the girls in our class, the way we looked in our white uniforms. I loved the nuns who taught us and I loved life."
---From The Amsterdam Oratorio by Maria Riccio Bryce
Six women formed the first community of the Sisters of St. Joseph of Carondelet in LePuy, France in 1650. In 1836, members of the order came to America to open a school for the deaf in St. Louis, Missouri. Since then, the Sisters have founded over a hundred educational institutions and hospitals in America, including the College of St. Rose in Albany and St. Mary's Hospital in Amsterdam.
St. Mary's was Amsterdam's second hospital. City Hospital, now Amsterdam Memorial on State Highway 30, had opened in 1889 on Division Street in part to care for people injured in industrial and railroad accidents.
In 1903, the pastor of St. Mary's Church, Monsignor Brown, asked the Sisters of St. Joseph to start a Catholic hospital in Amsterdam. This year, St. Mary's Hospital is observing the centennial of that founding with events including a gala ball, concert, golf tournament and historical activities.
The original 27-bed hospital was located in the farm home of the Marcellus family on what is now Guy Park Avenue. The building was enlarged in 1913, with other major building projects in 1927 and 1948. The current complex on Guy Park Avenue dates from 1980, with enlargements through the past two decades. The School of Nursing, founded in 1920 and closed in 1987, is recalled with fondness.
Today, there are more than two thousand Sisters of St. Joseph of Carondelet serving in America, Peru, Japan and Chile. However, there are fewer nuns at St. Mary's in Amsterdam today and the hospital is no longer headed by a member of the Carondelet order. Last year, St. Mary's became part of Ascension Health, the largest Catholic health care organization in the nation.
Yet, the spirit of the good sisters lives on at the hospital. It's a habit that's hard to break.
Sister William Aloysius Fitzpatrick first came to St. Mary's in 1941 as part of her nursing education at the College of St. Rose. Sister William returned in 1951 and has been at St. Mary's ever since. For 45 years, she worked in and managed the maternity department. Today, she is one of four pastoral care counselors, providing patients with comfort, support and spiritual assistance. For many years, she was a runner and once carried the Olympic Torch on its way through the area.
Sr. William was at St. Mary's in 1980 when the old hospital building closed and patients and staff moved to the adjacent new facility in one day. The move went "as smoothly as possible," Sr. William said, because of extensive planning. Some patients were wheeled across the parking lot to the new building. There was a birth during the last hours in the old building and a birth soon after the new facility opened.
"I was at St. Mary's Institute the other morning," Sr. William said. "All the children were present and it was kind of an awesome feeling to think that my name is on the majority of those birth certificates."
Sr. William served the maternity department as it underwent radical change. Years ago, women gave birth in the company of hospital staff. Today, husbands and other family members are present as babies are born.
"It's much more comfortable for the mother and real for the family," she said.
There was another major change in the maternity department when Amsterdam's carpet mills moved out in the 1950s and 1960s. The number of births dropped dramatically.
The relative economic importance of the hospital has grown as the carpet and then the toy industries left Amsterdam. With 950 people on staff, St. Mary's Hospital today is the city's largest employer.
Sr. William noted that other changes through the years have included the increased use of outpatient surgery for procedures that used to require hospital stays, new technologies such as the MRI and the growing importance of social work in the hospital setting in the form of discharge planning.
Sr. William also emphasized the importance of the support staff -- housekeeping, maintenance, dietary and many others. Certainly, one of the reasons I am so attached to St. Mary's is because my funny, salty Aunt Vera Cudmore used to work in the hospital kitchen and became a great favorite of the nuns, including Sr. William. Sr. William visited Vera as a pastoral counselor during my aunt's final illness last year.
Vera came to know the nuns by serving up food and funny stories in the sisters' dining room. Vera's best friend was Sister Mary Engelbert, the hospital dietician. I recall having a conversation with one of the intensive care nurses at St. Mary's last year who remembered her days in nursing school when Sr. Engelbert and Vera would provide special treats for the students. The nurse said Sr. Engelbert also taught her the best way to make scrambled eggs. Sister Engelbert recently observed her 60th anniversary with the order. Today, she and a number of sisters who have served St. Mary's Hospital through the years, including former hospital administrator Sister Mary Teresa, live at the order's Provincial House in Latham.
Downtown Library an Important Part of Amsterdam's Cultural Life
March 31, 2003
Carved in stone over the front entrance to the Amsterdam Free Library at the corner of Church and Grove streets are the words, "Open to All." Generations of Amsterdamians are familiar with the interior of the stately old building with its oak woodwork, large reading tables and second floor children's section. The present library building opened in 1903 and a centennial is being observed this year with an open house and other events.
Natives of the city including Kirk Douglas and my Aunt Vera Cudmore have remembered the library with donations. Douglas honored his friend Sonya Jacobsen Seigel with a library gift. My Aunt Vera visited the library monthly, plopping herself on a chair next to the mysteries to borrow favorite books, especially murder mysteries set in England donated by the wife of longtime Mohawk carpet company executive Herbert Shuttleworth.
The first organized book collection in the city was the Amsterdam Union Library, founded in 1805 and operated from the home of the librarian one day a week. According to the organizational bylaws, it was "the duty of the librarian to take a proper account or catalogue of all the books in alphabetical order." There are no records for the Union Library after 1832 and it is not known when this subscription library ceased operations.
The Amsterdam Literary Association was formed in the 1840s and the last written archives for the association are from 1860. This organization promoted libraries and literature.
Speakers were invited to winter sessions but the bylaws of the Literary Association stipulated that speakers be paid no more than travel expenses. When there was no speaker, topics were debated, such as "Is the motto, Our Country Right or Wrong, consistent with true patriotism?"
On January 14, 1848 an unknown topic was discussed with "a good deal of irregular conversation between members -- whereupon on or about the hour of ten and without any motion being put, the meeting broke in a row." At the next meeting, the minutes were altered by changing "row" to "disorder."
In 1844, women were praised for their "liberal donation for the increase of our library and their general attendance at the meetings." The women were asked to furnish an essay or poem for each meeting that year but no woman was ever invited to read or be an officer. In 1850, women were welcomed as permanent contributors. The archive for the Amsterdam Literary Association ends in 1860 but the association apparently continued for a number of years.
In 1891, some prominent citizens led by two physicians, William H. Robb and S.H. French, founded the Amsterdam Library Association. The library was located on East Main Street, west of Church Street. It was not a free library -- members paid a subscription fee of one dollar a year.
In 1895, the facility became a free library after a fund raising campaign organized by women in the community and sponsored by the Daily Democrat newspaper, a forerunner of the Recorder. A special women's edition of the newspaper sold 10,000 copies and raised $1,500.
In 1902, the Amsterdam Library Association became the Amsterdam Free Library after a donation of $25,000 was secured from philanthropist and industrialist Andrew Carnegie, who was solicited by Dr. French. Carnegie agreed to put up the money to construct the library building in exchange for the city's pledge for ongoing financial support.
Historian Hugh P. Donlon wrote that city aldermen were hesitant about the idea of ongoing library maintenance, but went along with the proposal after a meeting at alderman Frank Parmentier's saloon on Railroad Street.
The Amsterdam Free Library opened in 1903. A wing at the rear of the library was added in 1980.
At the cornerstone ceremony in 1903, Dr. French paid tribute to the city's growing industrial importance, "The whir of spindle and wheel will penetrate even the rooms set apart to reading and meditation, a constant reminder of the fact that thought and action must be inseparable. The toiler, not the idler is the one for whom libraries are founded."
(Information for this article was provided by Alessa Wylie on behalf of the Amsterdam Free Library.)


Amsterdam Man Was Late 20th Century Industrialist
March 13, 2003
As Amsterdam's carpet industry declined after World War Two, a local man of Polish descent created a multi-million dollar company that manufactured furniture repair products.
Frank D. Pabis started Mohawk Finishing Products with an initial investment of $5,000 in 1948. In 1973, Pabis merged his firm with RPM, a similar company based in Ohio. By 1980, Mohawk Finishing boasted millions of dollars in yearly revenue and 200 employees, 140 of them in Amsterdam. Pabis died in 1981. Twenty years later, in 2001, RPM closed the Amsterdam plant and moved Mohawk Finishing Products to Hudson, North Carolina.
As a child, Frank Pabis lived near Hagaman but moved when his father, Lawrence Pabis, bought a farm on Route 30 north of Amsterdam, adjacent to the site of what became the Mohawk Finishing Products factory. Frank Pabis picked potatoes on the farm as a boy and, as a teenager, worked in a local furniture store. He found that furniture often arrived scratched and dented at the store and that existing touch-up products were inferior. Pabis took chemistry correspondence courses and learned furniture repair from Joe Wartinger, an Amsterdam upholsterer who was a native of Germany.
Pabis started concocting furniture repair liquids and touch-up sticks in a barn next to the family home on Route 30, but his research was interrupted by military service during World War Two. After the war, he worked for a furniture repair company in Syracuse, but the owner refused to let the Amsterdam man buy into the business.
In 1948, Pabis returned to Amsterdam and established Mohawk Furniture Finishing Products in an old house on John Street in the East End. He not only devised formulas for numerous sprays, daubs and waxes to fix furniture imperfections but also designed machinery to make these products. His brothers Edward and Steven worked in the business. They would prepare a new product, go to furniture stores and factories to demonstrate the product and then return to fill the orders.
The business grew and Pabis relocated to 175 West Main Street. Bob Sauval of Amsterdam went to work for Pabis in 1959 when the factory was on West Main Street and stayed with the company for 38 years, eventually becoming building foreman.
Sauval said that Pabis was "a compassionate man" who "wanted to know about your family." Pabis once loaned Sauval money to tide him over a rough patch and deducted modest payments from Sauval's paycheck until the loan was repaid.
Mohawk Furniture Finishing Products became Mohawk Finishing Products, Inc., in 1964, the same year a large one-story plant was built on Route 30 near the family farm.
Mohawk Finishing was a "good place to work," according to Jen Polinski of Fort Johnson, who worked there for 20 years. Jen's husband Ed Polinski got a job at Mohawk Finishing first and Jen secured employment there a few years later. In 1973, Ed Polinski was a dairy farmer but, at age 50, he found farming difficult and hired labor hard to come by. Polinski explained his plight to Pabis, a long time friend. Polinski said, "Frank told me, 'You sell the cows, come to me and I'll give you a job.'"
In the 1970s, The Recorder reported that some of the machines designed by Pabis were collected by a longtime officer of the firm, the late realtor D. Paul Wojcicki, and stored on a farm near the Route 30 factory. The collection was called "Mohawk's Smithsonian Institute."
Chester Drzewicki, who was general manager of the Amsterdam plant in the 1970s, said that Pabis was "an ingenious man, who had an inquisitive mind and determined attitude."
Through the years, Mohawk Finishing Products offered classes for furniture stores and manufacturers in use of Mohawk's repair compounds. One product was Lacover, said to repair damaged furniture without showing that a repair had been made. One of Mohawk's best sellers was its furniture repair kit that included 50 jars of blended stains, 48 repair sticks, abrasive paper, sable brush and an electric knife.
In 1973, the firm merged with Republican Powdered Metals (RPM) of Medina, Ohio. Pabis told The Recorder that his two sons were not interested in taking over the family business.
Pabis was president of the Amsterdam Culture and Civic Association that sponsored the city's Polka Fest. Proud of his Polish heritage, he sold some of his products in Poland. He served on the board of the YMCA, Housing Authority, Community Chest and Antlers Country Club. A 1978 profile described Pabis as "an energetic, bouncy man" with "silver hair and blackrim glasses" who had a houseboat on Sacandaga Lake and who enjoyed fishing and golf.
Pabis headed several reelection campaigns for popular Congressman Samuel Stratton. Stratton called Pabis an "outstanding businessman and industrialist" when Pabis received the annual Industry Week Award from the Amsterdam Area Chamber of Commerce in 1980, the year he retired from Mohawk FInishing.
Five months later, Pabis died in March of 1981. The factory he began remained in Amsterdam until June of 2001.
Peter Montenaro: Recycling, Snow Cones,
Lunch Wagons, Go-Karts and More
February 28, 2003
Peter L. Montenaro, Jr., who died in 1995, relished a challenge and led a very active life. He worked many years with the family textile recycling business but also tried his hand at farming, selling snow cones, operating lunch wagons, catering, running a restaurant and supervising a go-kart track. He and his wife were excellent dancers, both ballroom and jitterbug. And Peter loved Christmas and enjoyed playing Santa Claus.
Montenaro's father, also named Peter, moved his textile recycling plant from Schenectady to a building behind the former Orpheum Theater off Market Street in Amsterdam in 1931. In 1939, he acquired the Blood mill building on Hamilton Street in the East End. His three sons helped operate the business. Peter, Jr. and Leo have died. Bob Montenaro is a resident of Broadalbin.
The Montenaro Company pioneered in recycling, buying cloth scraps from textile mills and reprocessing the scraps into fiber, which was sold back to the textile industry. Sometimes their suppliers were also their customers. In World War Two, for example, Mohawk Carpets provided Montenaro with scraps and Mohawk bought Montenaro's finished product for blankets. Fiber from the Montenaro recycling mill also was used to make carpets for automobiles and felt for skirts.
When urban renewal came to Amsterdam in 1970, the state bought the Montenaro factory building and demolished it to construct a highway, ending the family business.
"It was a five-story brick building," Bob Montenaro said. "The state tore it down in 1970 and now you can drive over it."
Peter Montenaro, Jr., was born in Schenectady in 1926 and moved with his family to Amsterdam, where he graduated from Wilbur H. Lynch High School in 1944. He served two years in the Army in World War Two and was trained to be a cook, training that served him well when he went into the catering business years later.
In 1949, Peter married Aurora Cantore, "the original woman behind the man," said their daughter Marilyn. The Montenaro children are quick to point out that one of mom's relatives is James Cantore, meteorologist on the Weather Channel. Peter and Aurora were accomplished dancers, winning an award as the best dancers in the Capital District in 1956. Their six sons include Peter Montenaro III who lives in the Rochester area. The other children live in the Amsterdam area: Paul, James, John, Andrew and Anthony Montenaro and Marilyn Sawyer.
In Amsterdam, Peter and Aurora lived on Evelyn Avenue and Peter was a stalwart of the Crow Hill Croppers, the neighborhood chapter of the Brothers of the Brush during the city's boisterous sesquicentennial celebration in 1954. Brothers of the Brush did not shave for the duration of the summer-long 150th anniversary of Amsterdam. Each chapter of the Brothers engaged in good-natured rivalry with other chapters. The chapters were often based at neighborhood taverns.
In 1959, the Montenaro family moved to a 96-acre farm on McQuade Road in the Town of Amsterdam, near Cranesville. Peter continued working in the family mill but also kept cows and grew hay up until the end of the sixties. In 1966, Peter purchased a snow cone business from John Daley of Alpin Haus, serving local children flavored ice in municipal parks on summer nights. Peter Senior died that year but the family continued to operate the Montenaro mill until 1970 when the state took their building by eminent domain.
As his new venture that year, Peter Montenaro, Jr. bought a truck and went into the lunch wagon business. His wife and children helped prepare the food that Peter delivered to small places of employment that lacked cafeterias. After awhile there were several Montenaro trucks and a catering business evolved. In 1978, he purchased the old Tower Inn (now Valentino's) in Cranesville, but sold the restaurant two years later. He retired from the lunch wagon and catering business in 1988.
Another Montenaro family venture, go-kart racing, continues to this day. In 1965, the family started racing the small motorized cars on a dirt track at their farm for their own amusement. Other local youngsters became participants in the sport. In 1975, the Montenaros built a larger track on their farm and operated this popular go-kart oval as a public attraction that year. However, the facility was closed down because of zoning restrictions.
By then, Peter Montenaro was familiar with the Dodge City Speedway in Cobleskill where his children had raced go-karts and where he operated the concession stand. In 1976, the Montenaro family purchased Dodge City Speedway, a facility still operated by Peter's son Paul Montenaro today.
Locust Avenue Mansion A Window on the Past
January 10, 2003
In Amsterdam, Wilson's Drug Store on Main Street is a pleasant memory for the families of mill owners and workers alike. Isabelle Dunlop Harris, who was born in 1912, recalled that her grandfather, Amsterdam carpet maker William McCleary, used to take her for ice cream at Wilson's.
"They had the best soda in town and the best chocolate sauce, warm and very sweet," said Herbert Shuttleworth II, the retired head of the Mohawk and then Mohasco carpet companies who is a lifelong friend of Isabelle Harris. When the drugstore closed in the 1960s, Shuttleworth obtained the chocolate sauce recipe from the owner. Alas, that nostalgic recipe -- calling for a combination of Belgian and French chocolates -- has been lost.
Harris grew up in a three-story, 16-room mansion built by her grandfather. While some members of Amsterdam's elite lived in elegant homes on Guy Park Avenue in the West End, the McCleary home is one of several fine houses on Locust and Brookside avenues, which run up the hill from the old Sanford mill complex.
Her home at 166 Locust Avenue seemed out of the way when she was a child, Harris recalled. There was the Morris house nearby on Brookside Avenue, ultimately purchased by the Shuttleworth family. She walked to McCleary Avenue School, named for her prominent grandfather.
William McCleary was born in Ireland in 1851 and worked there with his father, a linen manufacturer. McCleary came to Amsterdam in 1872 to manage the warping department at Sanford carpet mills.
McCleary had three wives. In 1877, he married Isabella Faulds, the mother of his only child, Margaret. Isabella died in 1883 and McCleary married her sister, Janet, who died in 1888. In 1892, he married Emily Fisher Davey.
In 1886, McCleary, John Howgate, Samuel Wallin and David Crouse -- all Sanford employees -- founded their own carpet mill on the South Side. That mill burned and the partners established a new factory on the north side of the river. Howgate died in 1893 and the firm was incorporated as McCleary, Wallin and Crouse in 1902, with McCleary as chief executive. The factory off upper Locust Avenue was known as the "upper mill," as opposed to the "lower mill" by the Mohawk River, owned by the Shuttleworth brothers.
McCleary's Locust Avenue mansion was built in 1892 and he became a civic leader, active at Second Presbyterian Church and a member of the board of the Shuttleworth brothers carpet mill. McCleary died on January 5 of 1920. That year, his mill merged with the Shuttleworths to form Mohawk Carpet Company.
Looking back, relatives today said that the women of that era were strong. However, Isabelle Dunlop Harris recalled that her mother, McCleary's only child, did not think she could operate the family mill in 1920 and thus the merger with the Shuttleworths took place. Herbert Shuttleworth II, grandson of one of the original Shuttleworth brothers, said it seemed logical for the two mills, each in separate locations, to join forces.
Harris lived much of her life on Locust Avenue. Her grandfather's Queen Anne-style Victorian house at 166 Locust Avenue became the home of her parents -- Margaret McCleary Dunlop and Margaret's husband, David Dunlop, a colorist at Mohawk Carpet. In the 1920s, a large yellow brick chimney was added to the outside of the south side of the house. When they were young, the four Dunlop children lived on the third floor, the servants' quarters, and moved downstairs as they grew older. Harris has fond memories of Sophie the maid.
"In winter we walked on the snow piles," Harris said. "There were no snow pants. We wore our regular skirts. We would get soaked."
She and her friends rode sleds down Locust Avenue; there wasn't much auto traffic then. They would ride back up the hill on a wagon owned by Harrower's, one of the mills in the neighborhood.
Shuttleworth recalled childhood plays at Second Presbyterian Church (he remembered Harris being dressed in a green "elfin suit") and both have memories of dance lessons at Miss Ridell's studio over the Rialto Theatre on Market Street.
Harris enjoyed dancing but the boys, she said, had to be told "you dance with so-and-so." One dance recital was held outdoors at the Morris house on Brookside Avenue. Flossie Morris, according to Harris, was afraid people would step on her plants.
Harris and Shuttleworth remembered Amsterdam's trolley cars and how one day a trolley got loose and rolled all the way down to Main Street. Shuttleworth recalled trolley trips to Jollyland amusement park near the Rockton section. Jollyland had a roller coaster and dance hall. The facility became Mohawk Mills Park, home of the baseball Rugmakers. Now the park is named for Shuttleworth. He appreciated the honor, he said, especially since the vote was taken on the new name when Democrats controlled the Board of Aldermen.
Isabelle Dunlop married Reginald Harris, a Mohawk executive who was active in Amsterdam's cultural scene as leader of the Mohawk Mills Chorus and organist and choir director at St. Ann's Episcopal Church. Isabelle and Reginald lived in a house next door to 166 Locust Avenue after their marriage. Reginald, special assistant to Herbert Shuttleworth at Mohawk and Mohasco, died in 1960.
A prominent local attorney purchased the McCleary house in the 1970s. Carl Salmon, Junior, is the son of Carl Salmon, Senior, who served three terms as Amsterdam Mayor in the 1920s and was a Surrogate Court Judge. Carl Junior's first wife, Lois Ann, died in 1973 and when he married Leila Newhouse in 1975, the blended family had nine children. They made good use of the 16-room McCleary house.
In 2001, Carl and Leila Salmon donated the building to Liberty Foundation. The Foundation raises funds to support programs that improve the lives of persons with disabilities and their families, particularly the developmentally disabled.
(This article was based in part on research done by Alessa Wylie for Liberty Foundation.)
Traditions Created by Amsterdam Bandleader Live On
January 10, 2003
In his 39-year career as a music teacher and bandleader, Gerald P. Barnell created traditions that touch the hearts of Amsterdam natives everywhere.
In the 1950s, it was Barnell's inspiration to meld the high school band with female cheerleaders and baton-twirling majorettes whose signature number became "Lullaby of Birdland," with majorettes forming a kick line reminiscent of the Radio City Rockettes. Today's majorettes no longer twirl batons but their uniforms are almost identical to those used when Barnell led the band and its auxiliary groups. And the majorettes still form a kick line as the band plays "Lullaby of Birdland."
"The band is a big tradition, it shows we haven't changed," said Pat Mercadante Valiente, a high school choral music teacher who has served as majorette advisor. "My son is going into ninth grade and he has the opportunity to join the same band program I did in high school. It means something. When the high school band performed in California last year, my brother, who lives in California, was wild with joy that his high school band was coming out there."
The band was in the news following that trip when one of its members, Matthew Martuscello, died from meningitis soon after the band returned from performing in the Hollywood Christmas Parade.
Gerald Barnell was Valiente's great uncle and a mentor for her musical career. In addition to directing the high school band, Valiente said her great uncle also organized the first All County Music Festival in Montgomery County in 1956. "As an insider in the music program, I can say his contributions were huge," Valiente said.
The youngest of eight children, Gerald Barnell was born in 1909 in Amsterdam, where his father operated a grocery store on Florida Avenue and was a founder of Mount Carmel Church on the South Side. The family name was Anglicized from Baranello.
In 1915, brothers Angelo, Charles and Anthony organized Barnell's Concert Orchestra. The popular group played for Amsterdam millionaires such as Stephen Sanford, country clubs, Saratoga casinos and at the New York governor's mansion. The orchestra disbanded in 1922 when brother Anthony contracted a bone disease. Soon, however, the youngest Barnell organized Jerry Barnell and His Society Orchestra, playing local spots such as Jollyland.
Gerald Barnell graduated from Amsterdam High School in 1929 and earned a bachelor's degree at Ithaca College. A violinist, he later did graduate work at the University at Albany, Syracuse University, Indiana University, Columbia University and Julliard School of Music.
He taught for a year at the Cazenovia Seminary and joined the Amsterdam schools in 1934. He served the school system until 1973 as instrumental director, leading the high school, junior high and elementary bands and orchestras. Apparently he succeeded Harris Dursham as high school band director.
Barnell also performed with the Barnell Concert Orchestra and directed his own Union Orchestra. He was a member of Local 133 of the Professional Musicians Union. He married Antoinette Morini in 1940. When WCSS radio went on the air in 1947, Barnell produced a talent show, "Youth on Parade", and hosted the Sunday Italian show with Salvatore Morini. Barnell entertained children by making his violin sound like a bumblebee or train whistle. He had many private students through the years, including popular guitarist and vocalist Rachelle Cotugno.
Barnell's son Jerry pursued a career as a business educator at Schalmont High School in Rotterdam; the younger Barnell did play bass drum in high school and college. Young Barnell's wife, Terri Mikolaitis, was one of Gerald Barnell's majorettes in the late 1950s.
After Gerald Barnell retired in 1973, he taught music education at the College of Saint Rose in Albany. He died in 1998; his wife Antoinette died in 2001. During their life together they lived on Philips Street near Henrietta Heights.
Since Barnell's retirement, the high school band has been led by numerous individuals including Robert Kent Kyler in the 1970s and Mike Pallotta. Pallotta served from 1980 to 1989, when he died of cancer.
Today, the musical group is known as the Amsterdam Marching Rams and includes majorettes and a flag team. Stephanie Ossenfort has been band director since 1995.
As a high school student in 1975, Ossenfort played clarinet in the band when Kyler was director. Ossenfort started teaching elementary music in 1979 in Amsterdam, left to start her family and returned to the school system to serve 12 years as a middle school music teacher before becoming an instrumental music teacher and band director at the high school.
Under Ossenfort's direction, the band has recorded a CD and performed in numerous venues, including California, Georgia, Virginia and the St. Patrick's Day parade in New York City.
Arlene Fontana -- Amsterdam Native Was Theater, Night Club Star
November 24, 2002
Arlene Fontana worked hard to achieve success in a show business career that spanned close to 40 years. The Amsterdam native performed on Broadway and appeared almost two thousand times in the national company of Flower Drum Song. She played nightclubs in New York, Chicago, London and Miami.
"Her greatest appeal was her energy and her appearance on stage," said Fontana's husband, theatrical agent Carmen LaVia. LaVia said that his late wife was a "powerful singer" who was always "so well prepared."
Born in 1936, Arlene was the only child of Marty and Palmera Masson Fontana. Marty Fontana came to Amsterdam as a young child from Genoa, Italy. A popular salesman for WCSS radio and other companies, Marty Fontana played trombone and violin in his own band, the Knights of Rhythm.
Arlene began taking tap, toe and ballet lessons at age ten. She studied piano. When she was 14, she did song and dance numbers in variety shows directed by local drama coach and later high school principal Bert DeRose.
In 1949, she attracted a regional following by appearing on the WRGB television program Teenage Barn. At the time, television was a rapidly growing medium and there were several local music shows. Fontana sang with WRGB performers Gary Stevens and Earle Pudney, toured New York, Massachusetts and Vermont with Teenage Barn and did summer stock at the Malden Bridge Playhouse.
In high school, she won an essay contest on the dangers of Communism and worked on a WCSS radio theater series directed by speech teacher Grace Rutherford.
When Fontana graduated from Wilbur H. Lynch High School in 1954, former Amsterdamian and family friend Joe Miller offered her a contract to sing at Miller's Shell Room Lounge in Miami. Fontana and her parents moved to Miami.
For a year, she sang in Miami nightclubs then secured bookings in Pittsburgh, Washington, Detroit, Cleveland, Dallas, Houston and Las Vegas. She was a favorite on Television Nacional in pre-Castro Cuba. Her recording of Easy backed with I'm In Love on a 45 record in the late 1950s did well in England, getting her club dates in London. Fontana was a friend of Bobby Darin then and Darin recorded Splish Splash at the same time Fontana's record came out. She would tell friends in a humorous, self-deprecating way that Darin got Splish Splash, a major hit, and she got Easy.
Fontana appeared in the Broadway productions of No, No Nanette and The Ritz and in the early sixties was auditioned by Richard Rodgers for the role of Linda Low in the national touring company of Flower Drum Song. She played that role with its signature song, I Enjoy Being a Girl, a record 1,972 times.
Over one thousand of those shows were done at the Thunderbird in Las Vegas where Fontana met her future husband. She and Carmen LaVia married at St. Michael's Church in Amsterdam in 1965. The couple lived on the Upper East Side of Manhattan, where LaVia is still an actor's and writer's agent for the Fifi Oscard Agency. He became Fontana's agent in 1972 and she continued to perform.
On television, she appeared on the Ed Sullivan Show, Merv Griffin, Tonight Show and the Mike Douglas Show. She acted in soap operas Another World and Loving.
Other regional musical theater roles included the lead in Irma La Douce, Nellie Forbush in South Pacific, Pal Joey, Sweet Charity and Chicago. She starred in the dramatic production of Heaven Can Wait. Among her nightclub credits were performances at the Drake in Chicago and LaMaisonette at the St. Regis Sheraton in New York City.
As a birthday present for her father, Fontana played a concert in 1971 at the then Coliseum Theatre in Latham. Marty Fontana died in 1974.
In 1984, Arlene Fontana was diagnosed with breast cancer. By 1987, she was well enough to perform again on a cruise ship and other locations and was in her last stage show -- This Joint Is Jumpin' -- in 1988. Cancer returned to her pancreas and she died of a stroke at New York's Memorial Sloan Kettering Hospital in May of 1990. Her mother, Palmera, survived her daughter by more than a decade but died a year ago in Amsterdam. Arlene's husband Carmen LaVia would visit Palmera several times a year.
LaVia said that Amsterdam was always very important to his late wife. Through the Fontanas, Amsterdam radio and cable executive Joe Isabel became acquainted with LaVia in the late 1980s. That led to actor William Shatner's willingness to perform in Amsterdam area charity benefits organized by Isabel. LaVia represented Shatner at the time.
Arlene Fontana had a "sophisticated act," LaVia said, with "international songs translated from Italian and French." Her costumes were grand. Over the years, her musical directors included Jonathan Tunick, who also worked with Stephen Sondheim and John Devane, who went on to be music director of the Houston Symphony.
Father of Country Visited the Mohawk Valley
November 10, 2002
Anxiety and boredom motivated George Washington to travel through northern New York and the Mohawk Valley almost 220 years ago. Exactly where Washington visited in the Valley is still a subject of dispute and conjecture.
The Mohawk Valley had been seared by war. Colonel Samuel Clyde, for example, reported on the aftermath of a British and Indian attack in 1780 that "such a scene as we beheld since we left the river, passing dead bodies of men and children most cruelly murdered, is not possible to be described."
By the summer of 1783, the last battle of the Revolution had been fought but the peace treaty would not be signed for some months. It was an uneasy time. Many soldiers wanted to go home but there were fears of Iroquois raids on the Upstate New York frontier.
Washington wrote the Continental Congress from his headquarters in Newburgh, in the Hudson Valley, that he was "teased with troublesome applications and fruitless demands." He told the Congress that he would "wear away a little time in performing a tour of the Northward." After the 1783 trip, he made recommendations to improve local roads and fortifications.
A book about this trip -- General George Washington in the Mohawk Valley: Summer 1783 -- was published this June. A collection of source materials compiled by Deborah J. Skivington of Fort Plain, the book is based on a teaching guide that Skivington and her daughter Beth Skivington prepared in 2000.
Washington's entourage included New York Governor George Clinton. Skivington said Washington and Clinton even tried to buy some land in Saratoga but the locals wouldn't sell.
Washington left Newburgh on July 18. According to a bill for the trip, he traveled north to Saratoga and Ticonderoga, was in the area of Schenectady and traveled through the Mohawk Valley west to Fort Schuyler. He returned to Newburgh August 5.
Among those accompanying Washington was an Italian nobleman, Count Francesco dal Verme, who kept a journal. Dal Verme had arrived in America in June and attached himself to his hero Washington. The count's journal remained with the papers of his family in Milan until it was edited by Elizabeth Cometti and published in 1969 by the University of Virginia Press.
Dal Verme wrote that the group was near Schenectady on July 27, 1783: "Here two Indians, an ambassador and his interpreter of the two nations (Oneida and Tuscarora) who supported the Americans, presented to General Washington a letter in a form of a memorial requesting rum, powder and ammunition for hunting; these supplies they obtained. Thunderstorm, then clear."
Washington's account book documented a visit to a tavern in Fort Johnson. Both the account book and dal Verme's journal stated that the party visited Fort Rensselaer in the Mohawk Valley on July 28. Built in the late 1770s, Fort Rensselaer was an irregular quadrangle with two small blockhouses, according to a 1947 local history by Nelson Greene. Greene drew the sketches that accompany this article.
"Fort Plain" was the local name for this facility while "Fort Rensselaer" was the official name, in honor of General Robert Van Rensselaer. According to historian Wayne Lenig, this fort was "the most important American post on the western New York frontier" from 1781 until 1785.
Dal Verme described Washington's visit to the fort as follows: "Thick fog. On our way to Fort Rensselaer, we went into a house that had been used as a fort. The commander explained to the General that the small cannon which saluted us did not fire thirteen shots for lack of powder. When we arrived at Fort Rensselaer we received a 13-gun salute. The troops presented arms. After maneuvers we dined with the officer corps in a group of 25. The echo in these mountains is very clear. Lodged in a nearby house. Cloudy."
On July 29, the group "went to see many houses that had been burned and replaced with others constructed of thick beams fortified on all sides" and then traveled west, probably to Fort Herkimer.
According to Canajoharie Library and Art Gallery curator James Crawford, "local tradition holds" that Fort Rensselaer was on the site of what is now the Fort Plain Museum. Some, however, have suggested that the fort was located elsewhere, perhaps even in what is now Canajoharie. Local tradition also has held that Washington spent the night of July 28 in a stone house owned by Peter Wormuth, north of what is now Nelliston.
By August 2, Washington was on his way back from the west. He visited the Cherry Valley and returned to a location dal Verme called Canajoharie. Although some have suggested that the night of August 2 actually was spent near Fort Plain, Crawford said that the travelers likely stayed in a tavern owned by Johannes Roof in what is now Canajoharie.
Dal Verme wrote of the Canajoharie visit: "All the dignitaries were present. Slept here. Clear."
Part of the confusion about "where Washington stayed on the trip," Crawford wrote, is because "some of the homes and place names in the mid-Mohawk Valley have changed since the 1780s." Crawford concluded that "both Canajoharie and Fort Plain (or at least Nelliston)" can "say George Washington did indeed sleep here."
Skivington's book on Washington's trip also contains documents on the importance of the Mohawk Valley during the Revolution, plus biographical information on Washington, including his relationship with Indians and his views on slavery.
General George Washington in the Mohawk Valley: Summer 1783 by Deborah J. Skivington is available for $20 from the Fort Plain Museum, 389 Canal Street, P.O. Box 324, Fort Plain, NY 13339. Proceeds benefit the museum.
93-Year Old Amsterdam Man Recalls His Life
as a First Generation American
October 27, 2002
Adam Bubniak, who is 93, has worked hard throughout his life at a dairy and at mills in Amsterdam, Schenectady and Fultonville.
When asked about his hobbies, Bubniak's wife Mildred, 84, opens her hands, mimicking the way a book opens. Adam likes to read. As a young man, he frequented the Amsterdam Free Library. Bubniak still enjoys reading books, newspapers and magazines, including a Polish magazine printed in Chicago.
He encouraged his four sons to go to college. "Education is very important," he said. Adam's father was Albert Bubniak, born in Gorlice, Poland in 1865 when that region was under the control of Austria. Albert came to America and worked first at Stewart's knitting mill and then at Blood's knitting mill in Amsterdam. In 1900, Father Anton Gorski, the founding pastor of St. Stanislaus Church, presided as Albert married Mary Sterkowicz. Mary was born in 1875 in Libusza, Poland.
Albert and Mary lived on Cornell Street, near St. Stanislaus, the church that was the center of life for the Polish community that was supplanting the Irish enclave on Reid Hill at the turn of the century. Mary died in 1945 and Albert passed away in 1956. The Bubniaks had two boys and two girls. Angela or Nelly was the oldest, followed by Adam. Nelly died some years ago in Hagaman. Mary died two years ago in North Carolina. John, the youngest, lives in Connecticut.
Adam recalled that his mother was a strong person and a major influence. Adam doesn't drink or gamble.
He does recall "enjoyable" Christmas holidays when he was a boy, featuring the traditional "wigilia" or vigil the day before Christmas. That day featured meatless meals, including pierogis, fish and cabbage. The family shared communion wafers in a ceremonial way. First the husband and wife broke and ate part of the wafer, then the eldest son, and on down the line.
Adam remembers the Reid Street business district in its heyday -- two shoe stores, drug stores, funeral parlors, the Polish bank, Brownie's hot dogs, Krupczak's Pharmacy, Wytrwal Furniture, DeStefano Market, Hawaiian Klub restaurant and HyGrade Market.
Adam was a member of the first eighth grade class to graduate from St. Stanislaus School, where he learned to speak Polish, and then graduated from St. Mary's High School.
In high school, he worked for Olbrych's Dairy, delivering milk, butter and cheese by horse and wagon on Reid Hill and the East End. After high school, he worked at the dairy and then at Sanford carpet company's spinning mill, spinning wool into yarn.
Adam met his future wife, Mildred Bonczyk, at a dance at the Polish National Alliance in Schenectady. "I used to go here and there," he said. Mildred was 19 and Adam was 27. They married 65 years ago on November 6, 1937 at St. Adalbert's Church in Schenectady.
The couple moved to Amsterdam to one of the flats owned by Adam's mother. During World War Two, Adam and Mildred both were employed by General Electric, Adam working on turbines and searchlights. Because of his age, children and work in a defense plant, Adam was not called for military service. He remembers going to the Amsterdam train station to support the young men who were going off to war.
Both Adam and Mildred love to dance, especially Polish dancing. "Polka is polka, you've really got to put your heart in it," Mildred said in explaining why her dancing today is limited because of recent heart surgeries. Years ago, they danced at Jollyland, now Shuttleworth Park, and at a spot called Healy's on Route 30 in Perth.
One of their sons, Michael Bubniak, continues his parents' interest in Polish music. Michael, an employee of the State Tax Department, hosts the Polish polka show on WCSS radio and plays drums in Tony's Polka Band. Michael and the other sons -- Robert, Gerald and Timothy -- all fulfilled their parents' dream of a college education. Robert is a retired worker for Onondaga County. Gerald is a social studies teacher in Northville and Tim is a retired employee of the State Comptroller's Office. There are ten grandchildren.
The boys affectionately call their father Bud, a catchall name Adam himself used in referring to family and friends.
As the boys were growing up after World War Two, Adam went back to work at Bigelow Sanford's spinning mill. The Bubniaks purchased a new home on Lodge Street off upper Church Street in 1953. Lodge Street was more rural then, with nearby farmland and a baseball diamond.
In 1955, Adam got his pink slip when Bigelow Sanford closed its Amsterdam mills. When asked if it was scary to have Adam lose his job a couple years after the family moved into a new home, Mildred was philosophical. "There's always work, and back then it was easier to get a good job," she said. Adam got a job galvanizing pails at White Mop Ringer Company in Fultonville and worked there until his retirement in 1971.
Through the years, Mildred worked also -- at Kresge's, General Electric, Eddy Brush and Coleco. When Adam's mother Mary was alive, she gladly cared for her grandchildren when Mildred went to work. "She was a great mother-in-law," Mildred said.
"Today is better," Adam Bubniak said. "We used to struggle."
Amsterdam Industries in the 1940s --
Carpets, Brooms, Underwear and More
September 29, 2002
Industries ran at full tilt during World War Two, according to a 1942 Chamber of Commerce booklet called Little Journeys Into Industrial Establishments of Amsterdam that was written by Earl O. Stowitts.
Amsterdam was ranked eighth in New York State in industrial output and was, Stowitts said, an important cog in the machinery of the American war effort." Little Journeys was a regular publication but the 1942 issue was the last one planned for the duration of the war.
The city's major employers--Bigelow Sanford and Mohawk Carpet Mills--had switched from making carpets to manufacturing blankets and fabric for tents and tarpaulins. There were 5,500 employed at Mohawk alone.
Women were prominent in the workforce, as men had gone to war. Stowitts said that Bigelow Sanford's machine shop was decorated with "colorful bouquets of garden flowers" and "feminine-looking slacks and aprons" were hung nearby. Nearly 500 male Bigelow Sanford workers already had enlisted or been drafted.
Little Journeys profiles 13 other Amsterdam factories—Chalmers Knitting, Amsterdam Broom, Gardner Broom, Collins Loom Works, Amsco Rug, Smeallie and Voorhees paper, Inman's box factory, Harvey Chalmers & Sons pearl button mill, Adirondack Sportswear, Bisbee Linseed Oil, Fownes glove mill, Collettes baseball factory and Brookshire Shirt.
In 1917, Chalmers Knitting built a seven-story building on Bridge Street that remains a major part of the South Side skyline. In 1942, 600 people worked there, Stowitts said, filling orders for underwear from the military while also producing "heavyweight shirts and drawers and union suits."
Amsterdam Broom Company, operated by the Wasserman family, had a four-story plant on Brookside Avenue. Gardner Broom Company was near the Chuctanunda Creek. William A. Gardner, part of the family, had been mayor of Amsterdam, State Senator, state judge and in 1942 was the city postmaster.
Collins Loom Works on Ann Street made machinery for the carpet and textile industries. Amsco Rug Company started in 1935 on Hamilton Street with the help of the Chamber of Commerce, Stowitts wrote. The firm employed 32 people in making an angora wool rug called the "Shagwev."
During the war, Smeallie and Voorhees paper mill on Forest Avenue was manufacturing 40 tons of paper board and wrapping paper a day, using waste paper as the raw material. The finished product was used to wrap anti-aircraft and other shells, bomb pins and food-containers for lend-lease orders.
Some of Smeallie and Voorhees' paper went down the hill to the Guy Park Avenue box factory started by Horace A. Inman in 1877. Inman's was a national leader in making boxes, Stowitts said. For example, the company was producing three to four million egg boxes a month. Inman's also made paper box machinery.
Harvey Chalmers & Sons continued to make over three thousand pearl buttons each day, although company president Edward Cooper said there was stiff competition from plastic buttons and zippers.
Marcus Breier's Sons was the parent company of Adirondack Sportswear, a firm praised by Stowitts for its daily workers' rest period and other efforts at employee relations. Adirondack was making field jackets for the Army and aviator jackets for the Navy.
Bisbee Linseed Oil was operating the former Kelloggs and Miller plant off Church Street where flaxseed was ground into linseed oil, an ingredient in paint, linoleum and other products.
Fownes Brothers had glove mills in Amsterdam and Gloversville and employed over 500 people. Ivens Sherr of New York City headed the company. Stowitts said the Grove Street Amsterdam mill made women's gloves "from the yarn up" in 40 to 60 styles.
Collette Manufacturing Company on Clizbe Avenue was making one million baseballs a year before the war, as the firm had invented a way to produce baseballs by machine, not by hand. "Most of the company's facilities and energies are now devoted to projects intended to help the war effort," Stowitts said.
Started as a home business by the Nowak family on Edson Street, Brookshire Shirt Company employed 80 people and made as many as 9,000 shirts each week.
Stowitts was a staunch advocate of capitalism and said his book was meant to show "the multitudinous ways in which the private enterprise system has contributed to the growth of industry in our city."
Writing as he did in 1942, Amsterdam's industries were now at the service of the government. "They (the city's mills) are enlisted for the duration," Stowitts said. "And we may rest well assured that they will nobly play the part assigned to them."
Adirondack Camp Was Pleasant Prelude to Wartime
September 15, 2002
When Lauren "Bud" Barnett was covered with mud in European foxholes during World War Two, he took his mind off his soldier's plight by dreaming of the beauty of the Adirondacks. When the war ended, he used his muster pay to buy land and build his own Adirondack camp.
Barnett's parents, insurance agents in Amsterdam, already had a camp in Wells and Barnett had been a regular two-week summer camper during the 1930s at YMCA Camp Agaming (pronounced agh uh ming) in Speculator.
"I longed to come back to that spot," Barnett said.
"Agaming, Agaming, we get up when the birdies sing," began the camp song. "Where the green grass grows and it never snows at Agaming."
Said to be an Indian word for "along the shore," Agaming was located on the north shore of Lake Pleasant, near the inlet stream from Sacandaga Lake and the village of Lake Pleasant. The campers interviewed for this story recalled that the Gloversville YMCA owned the property and began the camp in cooperation with the Amsterdam YMCA in the 1920s. The camp's heyday was in the 1930s when there were also Lutheran and Jewish summer camps nearby. Campers stopped coming to Agaming either during or just after World War Two. The property was sold in 1965 and the camp buildings have been converted into private residences.
About 60 boys attended camp for two-, four- or eight-week sessions. The boys lived in 10 cabins, with a counselor assigned to each cabin. A large common cabin served as the dining hall and a place for indoor games, such as table tennis. In 1938, one of the counselors was Isadore Demsky, a 1935 Amsterdam High School graduate then attending St. Lawrence University where he was a collegiate wrestler. Demsky would become movie star Kirk Douglas.
The men interviewed for this story have pleasant memories of Camp Agaming, although reportedly some of the eight-week campers would rather have spent at least part of their summers at home. A fair number of campers were on scholarship and did kitchen work in addition to participating in campactivities. Some campers came from downstate or the Capital District, but most were from Fulton and Montgomery counties. During the school year, the YMCA held Camp Agaming reunion bean suppers in Amsterdam to promote the next summer season.
"It was just about the last stage of your life before you noticed the absence of girls," said John "Bud" Rees, a self-described "outdoor nut" who served on the ground crew for a squadron of P 38 fighters in the South Pacific during World War Two.
"I remember one of the campers, David Wells, who died in the war," Rees said, "He was a nice young man. It seemed that those who died in the war were the nicest."
Rees grew up in Chicago but spent summers in Amsterdam with his maternal grandparents, the Brannocks. He has retired after a career as an English professor, most recently at Kansas State University. He lives in Manhattan, Kansas, during the school year but spends the summer at his family's home in Amsterdam.
Camp Agaming counselor Izzy Demsky/Kirk Douglas made an impression on Rees: "He had muscles growing out of his muscles. He was very popular with the younger folks but most all the counselors were."
Demsky/Douglas was in charge of waterfront activities, according to Rees: "I can remember seeing him in the back of a canoe. He looked like a much healthier Charles Atlas."
In his autobiography The Ragman's Son, Douglas wrote of a summer job as a stagehand at the Tamarack Playhouse on Lake Pleasant which may have coincided with his time as an Agaming counselor. Douglas went on to serve as a Navy ensign during World War Two and his movie career began in the late 1940s.
The boys at Camp Agaming learned archery, played softball and basketball and went fishing and swimming. A skinny-dip in the lake before breakfast was routine. Occasionally, the campers played softball games against another camp. Skits were put on during nightly campfires. There were one-day and overnight hiking and canoe outings, with a three-day "premier" trip climbing Mount Marcy, the state's highest peak. To get to Mount Marcy, campers rode in the camp truck or an authentic "woody," a Ford station wagon with wooden sides.
Camp directors included "Skipper" Jackson from the Gloversville YMCA, who was excellent at table tennis; Walter Van Hine from the Amsterdam YMCA, an accomplished tennis player and Don Haig from Gloversville, a skilled fisherman. Counselors included William Blasé, who went on to be a well-known Amsterdam physician and Bob Quiri of Ruby and Quiri furniture store in Johnstown/Gloversville.
Bob Dunning, who followed in his father's footsteps and became a dentist in Amsterdam, attended Camp Agaming for parts of three summers in the late 1930s. He served in the Navy in World War Two.
"It was a treat and relatively inexpensive," Dunning recalled of his camp experience. "There was a full program and it was near enough so that it wasn't hard to get there. Everyone knew someone who was also going there. It was a good way to learn to swim." Dunning especially enjoyed the "premier trip" to Mount Marcy and a canoe trip up a nearby river.
Insurance agent Lauren "Bud" Barnett of Amsterdam was a two-week camper at Agaming for many summers in the 1930s. He especially enjoyed the canoe hikes, noting that campers had to qualify for handling canoes.
"It was outstanding, watching deer drinking water around a pond," Barnett said. "And, naturally, you had a close relationship with the other campers."
East End Memories
September 1, 2002
Amsterdam's East End has been home to many ethnic groups including Latinos, Italians, Lithuanians, Poles, Jews, Irish and even English.
As was the case with many of my Polish and Italian childhood friends, my father worked in the carpet mill and came from the old country. In my case the old country was England, the land many of the mill owners also called home.
When my father was near the end of his life, we talked about why he was able to secure a job at Mohawk Carpet Mill during the Great Depression. "Because I'm English," he said.
Many of the English immigrants attended the former East Main Street Methodist Episcopal Church at East Main and Vrooman, a building now used by St. Mary's Hospital as an outreach center for its mental health programs. My father and mother met at church and were married at the parsonage.
Elsie Dexter Marihew, who is now 96, talked with me about her Amsterdam memories, including the days when she filled in for East Main Street Methodist church organist Algie Firth. Diane Hale Smith of Amsterdam suggested the interview with Marihew.
Marihew's father was Arthur William Dexter, who came from England to start a silk mill in Fonda. Later, he was a supervisor at Fownes silk mill in Amsterdam. Her mother was Caroline Conney, whose family ran a grocery store on Leffert Street and lived next door to one of the Shuttleworths, the family that headed Mohawk Carpets. Her mother was attracted to her father as a teenager because he wore a handsome black cape with a red lining. As a child, Marihew lived with her parents in Fonda and on Slater Street and then Academy Street in Amsterdam. Her brother Art founded Dexter's Delivery Service and delivered items for Holzheimer's and other stores.
She married Melvin Marihew in 1924. Her husband was a trolley motorman, bus driver and then an official of the Thruway Authority in Albany. The Fonda, Johnstown and Gloversville Railroad trolley cars that went to Schenectady were "very plush, upholstered nicely," according to Elsie Marihew. During World War Two, she worked as a timekeeper for General Electric. She has a daughter and numerous grandchildren and great grandchildren.
These are some of Elsie Dexter Marihew's memories.
The mill whistle blew at noon to signal the start of lunch hour and everyone came home for lunch, returning at the sound of a whistle an hour later. "How I miss that even to this day," Marihew said.
As the Shuttleworths expanded Mohawk Carpets, they lacked skilled workers. The Shuttleworths sent to Poland for immigrants who were then trained in making carpets.
There were stone steps coming down to Forbes Street from Slater Street so Reid Hill workers could get to the mills near the river.
Before electricity, homes were lighted by gas and the flat dweller had to put a quarter in the meter in the basement for continued light. The gaslight would get dim and ultimately go out without another quarter.
Ruth Marie Mitchell became a teacher, so did her sister. Their mother, a widow, ran a boarding house on Grove Street, housing and feeding two shifts of workers-gas men and electric men, who slept different hours in the same beds. The Mitchell sisters made scores of sandwiches each day.
Archie Griswold taught Marihew to play pinochle. Her friends included Vivien Brown, Winnie Cudmore and Beulah German.
Marihew and her friends played on the other side of the railroad tracks near the river. Her mother warned about tramps who hopped freights. Tramps would come to the door to get something to eat and then eat the food, sitting on the curb.
Marihew's father took her as a child to the amusement park at Jollyland (now Herbert Shuttleworth Park) on Sunday afternoons. She remembers that she once fell off a horse on the merry-go-round.
The Arietta Livery Stable was a major business in the East End before the automobile took over. "I was always scared of horses," Marihew said.
In winter, snow was plowed but not removed and would pile up so high you couldn't see across the street.
Miss Dickson in the 4th grade of the old Fourth Ward School on lower Vrooman Avenue used a rubber hose to scare the boys. Marihew remembers Laura DeGraff and Miss Scott as junior high teachers and that Mr. Kelton was principal of the high school. Marihew was valedictorian in eighth grade.
Before DiCaprio had a diner on East Main Street, DeCaprio had a lunch wagon.
Downtown, Marihew remembers Mansfield's Candy Store, in the step-down building at Main and Railroad Streets that was replaced by S.S. Kresge in the 1920s. She remembers Ryder's China Shop, the Boston Store and having her hair done at the beauty shop at the Barnes Hotel on Market Street.
The Marihews enjoyed eating out at Isabel's Restaurant in the West End and at Tommy Kansas' restaurant, a popular spot with trolley and bus drivers that was located next to the waiting room on East Main Street.
When the Milkman, Baker and Iceman Made House Calls
August 18, 2002
Do you remember when the milkman, baker and the iceman made house calls? Julia Baird does. Baird lived on Miller Street in Johnstown and also on Bloomingdale Avenue in Gloversville during her childhood in the 1940s and 1950s.
Most of us born in that era can remember the milkman's regular visits, delivering bottles of milk that sometimes froze in the cold weather. Baird recalls Johnstown baker Harold Smith banging a bell to alert the neighborhood that he was on the street with bread for sale. A Gloversville door-to-door baker was Peter Knapp, according to Baird. The iceman was closer to home-her stepfather Frank Sparks, who operated Sparkies Natural Ice.
"He would grab a block of ice with a pair of tongs and put it on top of his shoulder," Baird recalled. "On his shoulder was kind of a leather cape so he didn't get all wet."
Refrigerators replaced iceboxes in the 1930s and 1940s, although people who owned Fulton County summer camps held onto their iceboxes longer than city people, according to Baird. By 1950, though, Sparks the iceman had to concede that the refrigerator was here to stay and got a job at Lee Dye in Johnstown. Baird's mother, Hazel Sparks, was a waitress at the Dixie Grill on North Perry St. in Johnstown.
"Recently I found a book in my mother's things," Baird said. "It's a 1948 Gloversville-Johnstown city directory. There are so many businesses and other organizations listed in that book that don't exist anymore. It's really another era compared to now. How things have changed."
The directory was published by H.A. Manning Company, a firm with an office in Schenectady that specialized in city directories in the northeastern United States. The book is in two parts, indicating how Gloversville and Johnstown have their differences.
Hundreds of leather manufacturers, fur dealers and glove shops are listed in the 1948 directory. Almost all of them are gone. Daniel Hayes advertised "finger free" gloves in a full page spread, the "most comfortable gloves in the world."
Other kinds of businesses have vanished since 1948 because of technological or cultural change. Twelve firms sold coal in the Twin Cities in 1948, including Glove City Coal Co. that specialized in "low ash hard coal." There were cigar stores: Trask's in Gloversville and Howell's in Johnstown.
Cell phones did not exist in 1948. In fact, Upstate Telephone Corporation reported that many subscribers were still on party lines because the company could not "obtain sufficient equipment."
"The easiest way to get good telephone service when you are on a party line is to remember the other party," the phone company ad continued. "Remember he needs the telephone too."
In this pre-supermarket era there were 81 grocery stores in Gloversville (Abraham's, Clemente's West End Market, Van Heusen's) and 23 in Johnstown (Donohue's, Girard's and Oliver's Chief Market). Gloversville boasted 32 meat markets (E. Kosbuske & Son, Central Meat), while Johnstown had nine (Lorenc's Sanitary Market, Val-Emy).
Herschel Coon in Gloversville and Newton and Morrison in Johnstown provided typewriter service.
You could find boarding and rooms at people's houses-Helen Allen on North Arlington Avenue, Eugene Hollenbeck on Washington or Edith Main on South Main, all in Gloversville.
Robison and Smith and Tompkins Hat Factory in Gloversville advertised hat cleaning and blocking.
In 1948, television had yet to take its toll on social organizations. Gloversville alone listed almost 100 clubs and societies. These included the Royal Club, International Alliance Theatrical Stage Employees and Moving Picture Machine Operators and the Na-No-Nee Council No. 72 Degree Pocahantas. Shirley Frazier is listed as the Pocahantas. In Johnstown, there were about 60 associations, including the Aldine Society, the Fortnightly Study Club, and the Slovak Gymnastic Union Sokol No. 99, whose president was Frank Zilka.
Today, Julia Baird lives in Mayfield and works for Epimed Company, a firm that makes spinal catheters in Johnstown. She and retired Mayfield art teacher and former champion archer Erwin "Dutch" Hull were married in October. They probably had a wedding cake, although the baker did not deliver it to their door.
Glove Cities Colonials Mark 40 Years of Football
August 4, 2002
The Glove Cities Colonials have entertained their fans with hundreds of competitive football games over the past 40 years while giving local athletes a chance to play the game they love in a professional atmosphere. In a region where inter-city rivalries run deep, the volunteer team has bridged the gap between Johnstown and Gloversville. Former players and coaches with the Colonials have gone on to be community leaders, high school coaches and one alumnus is the head football coach at Yale.
In 1960, a group of young men regularly played tackle football at Knox Field in Johnstown. There were many injuries, recalled Johnstown Board of Education member and former mayor Bill Pollak. A meeting was called at the Johnstown YMCA to discuss buying equipment to help prevent injuries. Pollak envisioned an intramural team but was surprised that most people wanted to create a team to play amateur teams from other cities. A second meeting was held in Gloversville at Pedrick's Restaurant, owned by sports booster Saxy Marshall. Another inspiration was Frank Avery, who had played for the Olympics, a Johnstown football team from the 1940s and 1950s.
Money was collected for equipment and the Colonials played their first inter-city league season in 1962. Coached by Jack Weiss, the team won its first game against the Amsterdam Zephyrs (33-0) and compiled a 5-0 record that first year. The quarterback was Pete Precopio, who went on to be head coach at Johnstown High.
Pollak, for many years a teacher and football coach at Johnstown High, said the "first couple of years were rough sledding" but the team won the hearts of the community.
From 1967-70, the Colonials had a remarkable 26 game winning streak under coach Don Benton, finally losing to Watertown in 1970.
The unbeaten streak ushered in a golden age in the 1970s as the team fielded what Pollak called "a terrific mix of athletes." Other coaches of that era included Don Benton's brother Ken, Bob Cole, John Jurica and Jack Siedlecki, now head football coach at Yale. Games were played at Johnstown's Knox Field and per-game attendance was sometimes in the thousands.
| | |
| --- | --- |
| | "My playing and coaching experiences with the Colonials were as much fun as I have ever had in the game of football." Jack Siedlecki, Johnstown native and now head football coach at Yale University. |
"We were successful and it was a home town thing," said Clayt Sitterly, a linebacker in the 1960s and 1970s who also coached and promoted the team. Sitterly is now owner of his family's Johnstown real estate firm, Arlene M. Sitterly Coldwell Banker.
Sitterly said: "We were the talk of the town at the time. The Colonials enjoyed great success and the community took us under their wing."
The team staged big promotional events. For example, professional football stars Johnny Unitas and George Blanda were among the attractions at yearly Leather Bowls, underwritten by local tannery owner Fred Rulison.
Originally, the team had a strong Johnstown base that expanded to include Gloversville athletes and ultimately players from Fonda, Amsterdam and beyond. Sitterly, a Johnstonian, said the Colonials made it possible for him to make friends with people like the Robinsons from arch rival Gloversville High. Robby Robinson, the father, worked behind the scenes as his sons Jim, Harry, Calvin and Beebe played and coached with the Colonials.
Colonial Mike Mongin went on to coach at Fonda. Outstanding 1970s era players from Amsterdam included versatile Jerry Pepe and Cliff Schwenke, now linebackers coach at the University of Pennsylvania.
Other Colonials from years back include quarterback and assistant coach Bob Bean, defensive back and coach Mike Malatino and the Beatty family of Johnstown, including Johnstown High principal Mike Beatty and Mildred Beatty, who headed the team's auxiliary. Popular Capital District media personality John Thomas, currently events coordinator for the Leader Herald newspaper, was the radio and stadium voice of the Colonials.
The late Sylvester "Hug" Huggins came from Schenectady to play. The team recruited truck driver Dan Webster, who intimidated opponents with a growling voice and threw them off balance by wearing a patch over one eye. Sitterly said Webster moved the patch from one eye to the other at half time.
The most prominent alumnus of the Colonials is Jack Siedlecki, head football coach at Yale University since 1997.
"It was a great way to get myself in shape and I always felt it gave me a head start on preseason in college," Siedlecki said.
A 1969 graduate and football star at Johnstown High, Siedlecki played summers for the Colonials ("a great family and community experience") before returning to college football at Union College in Schenectady.
"My one year as the head coach (of the Colonials in 1973) was my first coaching experience and most of the players on the team were older than I was," he said. "One interesting sidelight was that I coached Joe Sawyer on the Colonials and he coached me at Union College. I am going into my 27th year of college coaching. After playing for eight years of high school and college, I can honestly say that my playing and coaching experiences with the Colonials were as much fun as I have ever had in the game of football."
The Glove Cities Colonials today are headed by president and former coach Jim Baker and coach Jerry Conine.
Football is in Baker's blood. He played with the Hudson Falls Green Jackets in the late 1960s and still regrets turning down a "mini contract" offered by the New York Giants. For ten years, he owned a Capital District football team, the Albany Metro Maulers. He impressed the Colonials with his winning ways and came to coach the Fulton County team in 1995. Baker liked the community so much that he and his family moved to the area. Today he operates the Copy Cat Copy Center at 295 North Comrie Avenue in Johnstown, a gathering place for Colonials and their supporters.
Baker is proud of the longevity of the Colonials, saying the average lifespan for such a team is 10 years. However, Baker acknowledges that attendance today is not what it was 30 years ago.
"The team was successful then because the Colonials existed in a small town USA environment," Baker said. "The number one thing to do in the 1960s and 1970s was to go to the Colonials. Today, there are more entertainment options. But the Colonials are so much a part of the community. Just come and see us once and you'll be back."
Golden age Colonial Clayt Sitterly is impressed with what Baker and his colleagues do: "The guys right now have to tough it out. I admire what they are doing. Players come from all parts of the area. They have to work with low manpower and don't get the same support we used to get. They play superior football today."
Baker added, "These young men have lives-jobs, wives, kids. They just love the sport. They have an overwhelming need to play the game of football."
Baker himself last played in 2000, when he was 52 and "might play again" when he turns 55.
"You have to play," Baker said. "So many say they are going to retire at the end of the season but return the next summer."
The Colonials play in the summer when there is less competition for football fields. The summer season also enables college age athletes to play and provides a preseason showcase for potential college and professional talent.
The team has been affiliated with three leagues through the years-Eastern, Empire and now the New York Amateur Football League.
Community service remains a tradition. Currently, the team is raising funds for its Official Head Cheerleader, Myrhia Zajaczkowski, an eight-year-old student at Broadalbin Perth Central School. Myrhia is undergoing treatment for a cancerous tumor attached to her liver that has grown internally. Donations are collected at each home game.
Home games for the Glove Cities Colonials are Saturdays at 7:30 PM at Knox Field in Johnstown or Husky Field in Gloversville. For more information, call 762-1234.
West Hill School: A Canajoharie Landmark
July 21, 2002
As in most Mohawk Valley towns, the hills rise rapidly as you leave the river plain in Canajoharie. The village is divided into West Hill and East Hill by the gorge made by Canajoharie Creek.
Canajoharie residents are pondering what to do with West Hill School once students leave the historic structure within a year. Located at Otsego and Cliff Streets, the building has been used as a school for over a century.
"It's part of the Canajoharie skyline," said School Superintendent Richard G. Rose during a recent tour. "Without this building, the village would be dramatically different."
Rose is keen on the structure's potential and impressed with the physical soundness of the building. He points with pride to stone and carpentry craftsmanship visible in the attic. He eagerly takes a visitor out on a fire escape for a picturesque view of the village below on a sunlit day.
The Canajoharie Central School District decided ten years ago that, in time, students would leave West Hill, which lacks a cafeteria, gymnasium and other facilities used in modern education. Currently, there are 80 kindergarten, pre-kindergarten and special education students at West Hill who will transfer within a year to a new addition being built at East Hill Elementary School. East Hill will then become the only elementary facility in the district.
Last year, Friends of West Hill School formed to work with the school district on plans to preserve and find a future use for the building.
Friends president Cathy Smith, who lives near the school, was impressed with how the community reveres West Hill when she gave tours during a May open house.
"People wanted to see specific rooms with wonderful memories," Smith said.
Ideas for the future have centered on finding someone to buy the structure and lease space to tenants. Potential uses include apartments, art studios, professional offices, museum space and rooms for college courses. Parking is an issue but more parking space may be made available nearby.
"If this building was located in Manhattan or even Albany, there would be little difficulty in making good future use of it," Rose said.
Formal education began in 1824 in the village with the founding of Canajoharie Academy, a private institution that occupied a structure built on West Hill. Susan B. Anthony directed the women's department at Canajoharie Academy from 1848 to 1850, when she left teaching to devote her time to the campaign for women's suffrage. In 1876, the private academy became part of the public school district.
Canajoharie grew in the late 19th century with manufacturing and stone quarrying. The Arkell and Smith Company was founded in 1859, the first American firm to manufacture paper bags. Food maker Beech Nut began in 1890. By that time, the village had 2500 residents and 215 students. A new school was needed.
Work began on West Hill School in 1891 and the facility opened in 1893. The cost was $20,000. The architect was Archimedes Russell. Russell designed over 800 churches, schools and other buildings in Central New York, including structures at Syracuse University where he was a professor of architecture.
In addition to educating local students, West Hill School housed a teacher training facility from 1897 to the 1920s, where teachers were trained for service in the one-room schoolhouses in the Mohawk Valley. The upper grades moved to the then new high school on Erie Boulevard in 1930. Since then, the facility has been used for elementary education.
The walls of West Hill School are made of limestone from the local Shaper's Stone Quarry. Private homes in Canajoharie and parts of the Brooklyn Bridge are also made from this limestone. A stone tower on the Otsego Street side has an open belfry containing the original school bell.
Inside the school are classrooms, offices and cloakrooms where students used to hang their coats. The cloakrooms feature dark, wooden wainscoting. The central staircase was enclosed in 1978 to meet fire codes for school buildings but the original wooden balustrades and corner posts are visible in some places.
For information on the Friends of West Hill School, call 518 673-2718 or write to PO Box 131, Canajoharie, New York 13317-0131.
The Fonda, Johnstown & Gloversville: Our Railroad
July 7, 2002
The history of the Fonda, Johnstown and Gloversville Railroad is intertwined with the history of our region. There were two parts to the FJ&G-a steam and ultimately diesel railroad augmented by trucks and an electric division that ended as a bus line.
The steam railroad ran from the New York Central railhead in Fonda to Johnstown and Gloversville, with branches to Northville and Broadalbin. The steam line operated an amusement park, Sacandaga Park, that was flooded in 1930 when the Sacandaga Reservoir was created. The last train on the FJ&G ran in 1984.
The electric trolley era in American transportation was relatively brief. However, before the automobile became popular, trolley lines made it possible for workers to live in housing developments miles away from the factories where they worked.
The first electric car to operate in Fulton County ran in 1893 between Gloversville and Johnstown. Initially, the Cayadutta Electric Railroad provided trolley service. In 1894, the FJ&G leased the Cayadutta and the FJ&G, Cayadutta and Amsterdam Street Railroad consolidated as the FJ&G Railroad Company in 1902.
The electric line provided local trolley service in Gloversville, Johnstown and Amsterdam plus connected these cities and Fonda with interurban service. From its peak in 1903 to 1938, the FJ&G ran electric cars from Gloversville to Schenectady. The company provided bus service until 1956.
Gloversville native Paul K. Larner, a locomotive engineer for Amtrak who lives in St. Albans Bay, Vermont, is writing a new book on the FJ & G, to be called Our Railroad.
"That's how Gloversville and Johnstown backers referred to the railroad at the beginning," Larner said.
In late 1892, New York Central interests obtained control of the railroad, selling out at a large profit to a group with interests in electric generation and developers of the Cayadutta Electric Railroad in June 1893. These men operated the company until it failed in 1932 under excessive debt incurred in extending the electric division to Schenectady. Emerging from reorganization in 1944, the FJ&G once again became "our railroad," under local ownership.
The FJ&G story involves political intrigue, regional differences and boardroom machinations. The railroad's history parallels the rise and fall of the region's major industries, especially in Fulton County.
"My goal is a thorough history," Larner said. His book, to be published next year, uses detailed newspaper accounts that describe, for example, how prominent 19th century Fulton County citizens such as Willard Heacock and Nicholas Decker vied for control of the companies that made up the FJ&G.
Republican Heacock, a judge and assemblyman from Gloversville, was instrumental in the creative financing that made the FJ&G steam railroad a reality in 1870. Decker, a political opponent of Heacock, started a horse railroad in 1874 to compete with the FJ&G. A traffic war between the competing forms of transportation took place. Ultimately, the FJ&G leased the horse railroad.
Larner has been a railfan since his youth and began his railroad career with the FJ&G in 1964. "I like what I do," he said, noting he has been able to tie his avocation with his vocation. Prior to his employment with Amtrak, he was transportation officer on the Central Vermont Railroad.
In terms of FJ&G history, Larner said, "I owe everything to Dave." The late David F. Nestle wrote a history book in 1958, Steam and Trolley Days on the FJ&G. (In 1998, Randy Decker published a historical picture book, FJ&G: Sacandaga Route to the Adirondacks.)
Nestle, a high school teacher in Greenwich from 1959 through 1987, was well known as a railroad historian. His widow, Pat Nestle, recently donated her husband's extensive FJ&G collection to Fulton Montgomery Community College.
There are about 500 pictures in the collection and Larner is working with the FMCC Digital Photography Collection to provide electronic versions of the photos that will be available on the Internet.
The Nestle collection consists of several large photo scrapbooks plus newspaper articles dating backing to the 1860s, individual framed photos from the company and company correspondence. Also, there are unique items such as a large map of the railroad's route, material relating to Sacandaga Park and a list of track repairs from 1870 to 1975.
According to FMCC librarian Peter Betz, the college is seeking a grant for expert conservator advice on preserving the materials, which will be part of the K. R. Dorn Regional History Collection.
FJ&G steam locomotive number 9, said to the fastest locomotive owned by the company at the time, between 1913 and 1917. The train is at the Gloversville depot with Les Collins (left), the fireman, and Frank W. Robinson, the engineer.

Photo: Fred Dye
Chronology of the Fonda, Johnstown & Gloversville Railroad
1867: Fonda, Johnstown & Gloversville Railroad Company is founded.
1870: First steam train runs from Gloversville to Fonda.
1873: The Johnstown, Gloversville and Kingsboro Horse Railroad is founded.
1875: The first steam train runs on the Gloversville & Northville Railroad; construction of Sacandaga Park begins.
1891: The Cayadutta Electric Railroad and Gloversville Electric Railway are founded.
1893: First electric run is made from Fonda to Gloversville. Cayadutta Park is built by the electric railroad north of Fonda to compete with Sacandaga Park. Cayadutta Electric acquires controlling interest in FJ&G.
1894: FJ&G leases Cayadutta Electric
1895: The Gloversville & Broadalbin Railroad opens.
1902: Gloversville electric line connects to Amsterdam. FJ&G, Cayadutta Electric Railroad and Amsterdam Street Railroad consolidate as the FJ&G.
1903: Electric line connects to Schenectady and the FJ&G company now includes both steam and electric divisions..
1930: The Northville branch of the FJ&G is abandoned because of construction of the Sacandaga Reservoir.
1938: Gloversville to Schenectady electric line is abandoned.
1956: Bus service is discontinued
1974: The Delaware Otsego System of Cooperstown, N.Y., assumes control of the FJ&G.
1984: The last official day of business is May 31, 1984; the last locomotive hauled a train on November 26, 1984
1990: The FJ&G rail line is removed. The FJ&G Rail Trail now occupies some of the right-of-way between Gloversville and Johnstown.
If You Get Into Trouble, Name It After Me
June 22, 2002
It is comforting and draining to go through the objects a person has left behind.
Hair curlers, rosaries, photos, can openers, scarves, seashells, hand bags, cancelled checks and all the many things the dead have touched almost add up to the person--but not quite. And that could be why survivors find going through clothing, jewelry, pots, pans, canned goods and pills such a tiring task. The objects left behind have lost purpose. They were part of a life that is no more.
My most recent family death was my aunt, Vera Cudmore, the first of our tribe born in America. Her parents, brothers and sisters, including my father, were all born in England.
In some ways, her life could be defined in the negative. Vera never married and never owned a home but lived in several apartments in Amsterdam, choosing locations near where she worked. She never owned nor drove a car and always walked to work, first at Fownes Brothers glove mill and then at St. Mary's Hospital. She never embraced positive thinking. She was always sure the worst was about to happen. She never got the hang of the cordless phone that was supposed to help her answer calls when she was in the bathroom. She never caught on to computers.
However, living alone contributed to her ability to make friends. She had circles of friends, ranging from former cronies at the Ivy Leaf Tavern to devout members of the Sisters of St. Joseph of Carondelet. She was beloved for her common sense, good nature and humor. She was a whiz at word puzzles, wrote witty poems, sang funny songs and could recite the alphabet backwards.
For the last 20 years, Vera lived in a series of three apartments at the Amsterdam Housing Authority high rise for the elderly on Wall Street, which is today the city's most functional skyscraper. She contributed mightily to the social scene in that building.
She never wanted to be on welfare and only went on Medicaid at the very end because she needed to be at a nursing home for a couple months.
Vera traveled light the last few years, sloughing off her belongings because she did not want to leave a lot of stuff behind for relatives to deal with. Still, she was 85 and had collected an eclectic set of household items.
Her photo display was politically correct, as far as the family was concerned. Each nephew and niece had photos displayed, along with other family members, plus pictures of her good friend Sister Mary Englebert.
The day after the funeral, a friend came from Vera's church, United Methodist, to take items for the church tag sale, providentially scheduled that weekend. It was both welcome and sad to see chairs, rugs, bookcases, clothing and lamps fly out of the apartment over the space of an hour or two. What had been Vera's place quickly became simply a few rooms with some pieces of furniture.
Rooting through what remains in her apartment the past couple of weeks I've come across things that take me back and make me smile. There are baskets she made out of old Christmas cards that are tied together with yarn. There's paperwork from her umpteen years as treasurer of VFW Post 55 Auxiliary. There are plastic containers where she stored cookies and Pringle's potato chips to fend off insomnia, if her customary remedy of reading murder mysteries didn't send her to sleep.
She always complained about the sex and violence in the mystery books she borrowed from the Amsterdam Free Library. However, she complained in great detail, if you know what I mean.
One thing I've saved for myself from Vera's apartment is the glass sugarbowl with the screw top, the classic kind, stolen by my son from his college dining hall and proudly used by Vera all these years. Vera was always a co-conspirator with the plans and schemes of people many years her junior. It was part of her appeal.
When you asked Vera how she was feeling, she always said, "Rotten."
"I've got to go, Vera."
"Go on and have a good time. Enjoy yourself when you're young. Don't ever get old. Stay out of trouble. And if you get into trouble, name it after me."
| | |
| --- | --- |
| | Vera Cudmore, 1917 - 2002 |
WENT: Where Everyone Naturally Tunes
June 22, 2002
When severe thunderstorm winds took down most of WENT radio's 59-year old, 184-foot transmitting tower on Harrison Street Extension in the Town of Johnstown May 31, the phone calls started.
"I was glad no one was hurt," said Jack Scott, president and general manager of Whitney Broadcasting, which has owned the Gloversville-Johnstown radio station since 1986. The falling tower missed the station's nearby transmitter and studio buildings. Twisted and mangled steel lay like a snake around the stub of the tower.
Those calling on the phone missed their WENT. Scott said some callers even offered financial help. Within two days, station engineer Lloyd Smith, who is also host of the morning show on Amsterdam's WCSS, rigged a temporary system that enabled WENT to return to the air on reduced power. A new tower was in place by the end of June.
In the radio business, WENT is highly regarded and unique. While most radio stations offer syndicated or computer-assisted programming ranging from alternative rock to Rush Limbaugh, WENT's local staff provides award-winning local news, sports, community announcements, recorded music and contests. While most radio stations are owned by large conglomerates, WENT is a family business. Scott's wife, Shirley Clark, is the station's office manager. And while most people listen to FM, WENT is a stand alone AM radio station.
Radio was America's dominant in-home entertainment medium when Plattsburgh radio station owner George Bissell founded Sacandaga Broadcasting Company and put WENT on the air on July 1, 1944. WENT, at 1340 AM, is the oldest radio station in Fulton and Montgomery counties.
"At the time there were only four or five radio stations in Albany," said veteran broadcaster Phil Spencer, Sr. "I presume what Bissell did was look around for available frequencies in an underserved area."
King Owen, stage name for WENT radio performer Avery Clizbe of Broadalbin. A former organist for network radio programs in New York City, King Owen played live piano music on WENT's morning program in the 1950s.

Photo: Frank Ambrose
Spencer recalled that Bissell was very interested in the mechanical side of radio and hired a series of veteran managers, including Kolin Hager, WGY's first announcer and manager; Dale Robertson, who became well known in harness racing and Jack Charles, who had been a popular New York City announcer.
Spencer was a sports announcer and had other roles at WENT from 1949 to 1951, when he entered the Army. He did several brief stints at WENT after returning from the service but is best known as manager and owner of WCSS in Amsterdam.
Licensed to Gloversville and Johnstown, WENT's main studios were originally at 8 Fulton Street at the Gloversville Four Corners. There was a studio in Johnstown in the early days where George Hornidge did a program of community news called "Johnstown USA."
From its beginning until 1986, WENT was affiliated with the CBS Radio Network, which provided popular programs like Arthur Godfrey and Ma Perkins in the 1940s and 1950s. Early on, the station was also affiliated with the Mutual Broadcasting System.
King Owen did a live morning show on WENT in the early 1950s, mixing live piano music with his own stories. Owen had played the organ for radio shows in New York City. Spencer said Owen was from Broadalbin and his real name was Avery Clizbe. His wife was WENT's bookkeeper.
In the early 1950s, engineers played records at WENT's transmitter site on Harrison Street Extension for the announcers in Gloversville. Spencer recalled that announcers had to pick music selections a day ahead and during their shows pressed a buzzer to alert the engineer to start the music.
Another popular WENT program was the country band, Pals of the Saddle. Musicians frequently performed on local radio then to advertise their personal appearances. Spencer said Frank Lopuch, an IRS employee from Amsterdam during the day, and his brother Steve Lopuch headed the band.
In 1955, the station was sold to WENT Broadcasting, initially headed by Arthur Lloyd who was succeeded within a year by Joseph Tobin. Originally from the Boston area, Tobin had been an announcer at WMCA in New York City and was a network announcer on the Kate Smith Show. At WENT, Tobin did the morning show. The station's studios moved from downtown Gloversville to the transmitter site in 1963.
Lloyd Smith, who came on board as engineer in 1972, recalled that popular personalities of the era included newspaper reporter and broadcaster Sam Zurlo and disc jockeys Dick Brown, Bob Waite and Hank Kinney. Kinney was a singer who did an afternoon show on WENT. Smith said record hops hosted by WENT personalities outdrew dances done by the "big DJs" who came to town from Albany.
In 1975, WENT was purchased by Dean Broadcasting, headed by Richard Ruby of Ruby and Quiri Furniture and Larry Peck. Peck recalled that Ruby's dad had been a regular guest on Joe Tobin's morning show.
Peck is a native son. His family developed Peck's Lake for camping and fishing. As a young man, Peck worked for Joe Tobin at WENT. From 1960 to 1970, Peck was at WABY radio in Albany but came back to Fulton County and a position with Coca-Cola, before buying WENT in 1975. Peck and Ruby sold WENT to Jack Scott and Whitney Broadcasting in 1986. Peck is now a vice president of City National Bank.
Peck and others recalled WENT weatherman James Chambers. Chambers studied meteorology on his own and offered his forecasts to local businesses. Chambers always carried an umbrella and began his reports by saying: "The forecast for Gloversville, Johnstown and vie-cinity." Chambers did his broadcasts from his own office and the WENT announcers frequently had to try to raise Chambers several times before the weatherman began his reports, which aired from the mid 1950s to the mid 1970s.
"Saxy" Marshall did sports from the 1950s through the 1970s on WENT, according to Peck. Marshall owned Pedrick's Restaurant, had a band and was a faithful attendee at local sporting events. Like Chambers, Marshall favored unusual pronunciations, saying "Shenandoah" when referring to the high school at "Shenendehowa."
When Jack Scott bought WENT in 1986, one of the first things he intended to do was to drop the station's birthday announcements. He reconsidered that idea when the sales manager explained how popular the feature was with the audience and advertisers.
Peck and Scott agree that the key to WENT's success has been its operation as a local community radio station.
"What's made the station successful is that it's live, local, no syndicated programming, a veteran staff," Scott said.
Scott's radio career began in 1970 at a country music station in Connecticut. He was an anchor, sports anchor and talk host at WTNH television in New Haven. In 1976, he moved to California and worked in radio and broadcast consulting. He and his family wanted to move back to the Northeast in the 1980s and, when WENT became available, purchased the station.
One thing that Scott, Peck, Smith and Spencer do not know is why the radio station is called WENT. Scott has a 1940s era brochure spelling out: Where Everyone Naturally Tunes. Although Spencer doubts that WENT's call letters actually stand for that phrase, it is true that people in the area have been naturally tuning to the local station for close to 60 years.
Bill Pope - Broadcasting Legend Who Made Amsterdam His Home
May 26, 2002
In Amsterdam, broadcasting legend Bill Pope is famous for his 37-year career as a big band disc jockey, talk host and promoter of worthwhile causes. In Albany, Pope is remembered as one of the pioneer rock and roll DJs of the 1950s.
Pope died April 28 and is survived by Anita, his wife of 61 years, three children, many grandchildren and great-grandchildren. A native of Schenectady, Pope broke into radio at WGY, reporting sports news from 1944 to 1948.
Former broadcaster Paul Karabin and his mentor, the late broadcast legend Bill Pope (right) at the WCSS 50th anniversary party, 1998.

Photo: Joe Condon
From 1950 to 1961, Pope was the most popular disc jockey at Albany's WABY. He also had radio gigs at WOKO and WPTR.
Pope started as a DJ playing the pop standard music of artists like Patti Page and Rosemary Clooney. On his WABY Saturday show, he began featuring Rhythm and Blues records to appeal to Albany's African Americans. White teens also were attracted by the music that came to be called rock and roll. Pope played rock music in two timeslots on WABY, nine to noon and three to six p.m. "I remember that he was very big," said veteran Albany radio personality Joe Condon, who now operates an Internet radio station, radioalbany.com In the fifties, Pope was King of the Record Hops in Albany. Making a gag out of his baldness, he became Old Curly Bill and Pappy Chrome Dome. Even though he was in his forties, Pope had such rapport with young people that he was known as Mister Teenager.
Condon can recite Pope's DJ banter that promoted the WABY call letters, which were pronounced to rhyme with "baby": "By golly, Aunt Polly, don't say maybe, say WABY!"
Condon met Pope at several remote broadcasts and Pope once called Condon by name when Condon was with his classmates.
"Bill Pope knows YOU," said Condon's incredulous friends.
In 1961, Pope left WABY and moved to Amsterdam to manage a new radio station, WAFS. That station today is WBUG. After six months, Pope left WAFS for a radio job in Glens Falls. Soon, he was back in Amsterdam selling commercials and hosting music shows on WCSS radio, then owned by Phil Spencer, Senior.
"He was an unforgettable character," Spencer said. "If you asked me to describe five guys who were special among all the people I've met in broadcasting, he would be one. He was talented, great at public relations, a terrific person for the station. He was an emotional guy. He would really feel it if you had a loss. He was an excellent ad libber. He couldn't read copy cold. But you could read him a radio spot once and he could ad lib from it." Spencer said that Pope never let longtime vision problems slow him down: "We used to do 85 percent of our business in Amsterdam back then. I would drive Bill downtown and park behind Bosco Greco's gas station opposite the post office. Bill and I were the only salesmen. I'd work one side of the street. He did the other. We'd meet in the afternoon and I'd take him back to the station where he did his Rolling Home Show."
Adult music was featured on the Rolling Home Show. Returning to his musical roots, Pope played big band music on Saturday on Bill's Big Band Ballroom.
Active in the community, Pope coached the Bergen Post American Legion Baseball Club to a state championship in 1973. He helped raise money for many organizations.
"Bill was the only man I know who never said a bad thing about anyone," Spencer said.
Pope left WCSS in 1976 to work for Joe Isabel at Gateway Cablevision in Amsterdam, where Pope sold commercials and did a television talk show, Let's Talk With Bill Pope, for more than a dozen years. As a talk host, Pope was fair and polite.
When Spencer sold WCSS to Isabel in 1988, Pope went back on the air at WCSS, where he continued until his retirement in 1998, doing talk shows and his Saturday big band program.
Pope nurtured broadcast newcomers-from Joe Condon in Albany to Ted Flint, Tina Gnyp, Paul Karabin and countless others who came through the doors of WCSS and met the bald headed man who didn't see very well but who had this great gift of gab. Bill Pope was the best talker I ever heard on the radio. Paul Karabin, now a salesman at The Recorder newspaper, became a Bill Pope fan in the 1990s. When they met, Pope encouraged Karabin to go into radio sales and airwork, which Karabin did in 1996.
Because of poor eyesight, Pope worked with a control board operator at WCSS. Karabin ran the controls for Pope's Saturday show in 1997 and 1998. Karabin said Pope's advice to fledgling broadcasters was to be genuine, keep people interested and be an entertainer. Pope also took his decaf coffee with lots of cream and lots of sugar.
Karabin said that for Pope and the listeners, his "little time slot" on the air was a chance to "escape from the realities of the world." On his big band show, Pope told stories about musicians and kept things moving with his trademark self-deprecating patter:
"This is Curly Bill, mikeside, starting on that second cup of coffee. Bill, no one wants to hear that, let's ask Vic Damone to step to the microphone and sing, just like this. One and two and..."
Artist Rufus Grider Created Visual Record of Mohawk Valley History
May 12, 2002
Artist Rufus Alexander Grider created more than two thousand drawings that are an invaluable guide to Mohawk Valley history. He produced this body of work when he was in his sixties, seventies and eighties.
"As you go through the valley, every small historical society has one or several Griders," said writer and historian Alice Smith Duncan of Canajoharie.
She added, "He wasn't trained as an artist on a sophisticated level. His impulse was historical."
Smith Duncan is writing a master's thesis and book on Grider. She is a master's candidate in the Cooperstown Graduate Program in History and Museum Studies, sponsored by the New York State Historical Association and the State University of New York. Her book on Grider is scheduled for publication next year.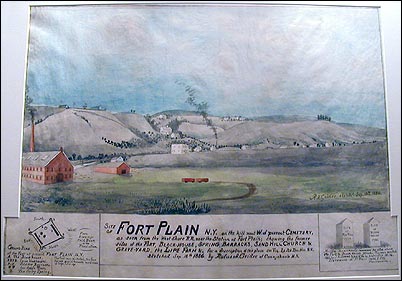 Site of Fort Plain, New York. A sketch by Rufus Grider showing the site of the fort as it looked in 1886, with inserts depicting the ground plan of the Revolutionary War fort and marble monuments that marked the location of the fort and blockhouse.
Photo: Chris Duncan

When Grider died in 1900, he left nine scrapbooks with pen and ink drawings and watercolors of Mohawk Valley scenes that are now housed at the State Library in Albany. Other Griders are at institutions in Canajoharie, Fonda, Fort Johnson, New York City and elsewhere. And, Smith Duncan said, the artist left an "equally large body of work in Pennsylvania."
Born in the Moravian religious community at Lititz, Pennsylvania in 1817, Grider was educated there at Bech's School but apparently learned drafting and artistic technique on his own. The Moravians lived in a closed community, much like the Amish, until 1853. Grider worked in several businesses and moved to Bethlehem, Pennsylvania, in the 1850s. He, his wife and two daughters operated the well-known Sun Inn, selling the inn at a profit in 1870. The family moved to Philadelphia where Grider was active with artistic projects and taught art in nearby communities.
His wife died in 1878. In 1884, when he was in his late sixties, Grider moved to Canajoharie to teach art. He helped oversee construction of Canajoharie's West End School.
Grider painted some pictures of Mohawk Valley scenes from personal observation. However, many of his paintings were of "things that weren't there anymore" in the late 1800s. To make these sketches, he relied on what Smith Duncan calls "forensic documentation." Grider questioned older residents and used their recollections to draw his pictures. Grider frequently wrote narratives to accompany the pictures. Sometimes his interview subjects signed the pictures, indicating that the artist had accurately rendered their memories.
Grider preserved history in other ways. He had a collection of 500 powder horns from the Revolution and colonial wars. Used by riflemen, the powder horns were decorated with images and text, a practice similar to how airmen drew pictures on planes in World War Two. Grider's collection of powder horns is at the New York Historical Society in New York City. He made many drawings that duplicated the artwork and text on the powder horns. Grider also copied 18th century deeds, maps and other documents. Active in local history societies, he was instrumental in the restoration of the 1740s era Van Alstyne Homestead on Moyer Street in Canajoharie, where some of his paintings can be seen.
Why did Grider come to the Mohawk Valley? Smith Duncan said it could be that the local area fascinated Grider because it was similar to his native Pennsylvania in architecture and things people used. Grider arrived at a time when the Mohawk Valley was industrializing. Perhaps he saw an opportunity to preserve a vanishing lifestyle.
Grider himself said: "Having a taste for historical matters, and finding that the Valley was rich in such, I obtained the books giving the history thereof, and then began to visit the places of historic interest spoken of, frequently traversing the country on foot. One of the historians whose work I read, (Jeptha) Simms, regretted that so much had been lost because no limner had put the appearance of these historic places and buildings on record. While the historians were able to write and describe, they were not able to sketch. That opened up a field for me, as I was able to do such work."
When Grider died of a heart attack in 1900, he was scheduled to do a talk that night. He had done his last painting a little more than a month before. Reading his obituary, Smith Duncan said, you can tell he was a "known commodity" in the Canajoharie community--friendly, generous and well-liked. One of his daughters married into the locally prominent Sammons family.
"He was the most prolific, productive person you can imagine," Smith Duncan said. "He was very cool."
Active Cranesville Church Known for Church Suppers
April 28, 2002
When I was an Amsterdam teenager, my father told me that Route 5 in Cranesville was no place to exceed the speed limit and face an appearance before Justice Malcolm Malpas. I heeded my father's advice. We drove through Cranesville frequently when I was young, visiting my mother's sister and her family on Toureauna Road off Swart Hill Road.
Craneville is an active little settlement east of the city in the Town of Amsterdam. Cranesville stretches from Route 5, north to Route 67. The hamlet has a creek, volunteer fire department, restaurant, Protestant church and two Jewish cemeteries. The railroad runs next to Route 5 and Cranesville is adjacent to lock 10 on the New York State Barge Canal.
Historian Hugh Donlon reports that a man named Philip Groat bought land from the Indians in 1716 around the creek that runs through Cranes Hollow, the Eva's Kill. The settlement was originally named Ariutha for a family who operated a farm. David Crane ran a tavern in the community and eventually his name was applied to the hamlet. Some of the Cranes are buried in a small cemetery next to Temple of Israel Cemetery on Route 5 at Cranes Hollow Road. The Temple cemetery was established in 1885.
Kirk Douglas's father, Harry Demski, is among those buried in Congregation Sons of Israel Cemetery on Cranes Hollow Road, a half mile north of Route 5. That cemetery dates from 1892.
The restaurant on old Route 5 in Cranesville is now a popular spot called Valentino's. A generation ago, the restaurant was known as The Tower Inn and it was one of the area's first places for fine dining, where doctors, lawyers and politicians frequently broke bread. Marion Bennett ran The Tower in the one time summer home of the Morris family.
Mrs. Bennett must have liked cats. Historian Donlon says that "feline companionship" was "practically inescapable" at the restaurant during the Bennett era.
In 1871, the Cranesville Reformed Church was founded. According to a history compiled by church member Bruce Knudsen, the church building was "for the most part complete prior to the official organization date of June 25" of that year.
The church had fund raising events, of course, back in its early days. Frances DeGraff left the following first person account:
"It was a warm, sunshiny day in the summer of 1872 when my mother told me the folks of the Cranesville Church were setting up a festival to raise money to buy an organ. She said she had promised to bake a cake.
"I said 'May I go?'
"'Yes, if you can get your new dress finished.'
"It was material I did not like very much, but when I saw her bordering the ruffle with glossy blue silk I began to like it and looked forward with expectation natural to a child to the festival. I walked beside my mother that day watching blue edge ruffles flounce with my steps, and watching my mother as she held on the precious cake that would add to the success of the festival for the benefit of the new church."
In the late 19th century, the Cranesville church grew even though "disease and death" were common. A 482-pound church bell was installed in 1888. A carriage shed south of the church was made into the church hall in 1892. However, church attendance declined at the end of the 19th century and in 1905 the church closed. A small group of church members including Mary Phillips, Julia Turnbull, Laura Mathias and John DeGraff worked to reopen the facility and the church opened its doors again in 1908.
In the 1930s and 1940s, Sunday School classes organized the Footlight Club. The group put on plays in a performance space created on the second floor of the church hall.
Even though the church was active in this period, a permanent pastor was not appointed until 1945, when Reverend Norman Vanderhart assumed that position. The current pastor is Reverend Jacob Marvel.
The church door was painted bright red in 1963. In 1973, an addition was built connecting the church with the church hall.
Cranesville Reformed Church is known for its fund-raising festivals and church suppers. These feasts were diligently promoted by church member Alice Schultz on my 1980s WGY radio show.
Alice's husband, Rudy Schultz, heads the church's Men's Fellowship, where the young, the old, the politicians and sturdy farmers gather for good food and the good-natured banter that stems from sharing lifetimes together in a small place.
An Anthropologist Who Studied Amsterdam
A University at Albany anthropology graduate student lived in Amsterdam from 1992 to 1994 and wrote her doctoral dissertation on the city's industrial decline.
Susan R. Dauria, now a professor at Bloomsburg University in Pennsylvania, thought that one way to understand life in a mill town was to get a job on an assembly line. She worked at Hasbro, a toymaker then located in Amsterdam.
Dauria said, "I think the hardest thing was you had to keep up with the machine. Every thirty seconds that thing would make a mold and you had to keep up with that."
| | |
| --- | --- |
| | Anthropologist Susan Dauria at wortk on the Hasbro assembly line in Amsterdam in the early 1990s. Photo: Susan Dauria. |
According to Dauria, Amsterdam experienced two periods of deindustrialization. The major blow was the "flight of the carpet mills" to the south in the 1950s and 1960s as the industry sought cheaper, non-union labor and more room to install new carpet-making technology. Amsterdam experienced another economic blow in the 1980s when Coleco, a toymaker that had taken over former carpet mill buildings, "made bad investment decisions after the success of the Cabbage Patch doll."
The city's Polish, Italian and other European immigrants were drawn to Amsterdam by the prospering carpet industry from the turn of the century through the 1920s. Latino immigration took off in the 1950s as the carpet mills were departing and the city's overall population was declining. Initially, Latinos worked in low-paying "marginal industries" that were established in Amsterdam to take advantage of government incentives aimed at helping the struggling local economy. Some mills with a Puerto Rican workforce in New York City, for example, relocated in Amsterdam. A second group of Latinos, Dauria wrote, came to Amsterdam seeking "tranquilidad," refuge from crime, drugs and violence in New York City.
In her thesis, Dauria argued that the upward mobility of the carpet industry helped European immigrants assimilate into American life in the first half of the 20th century. However, "reduced economic opportunity" in the second half of the 20th century, she said, "played a significant role" in increasing the importance of ethnic allegiance for Latinos, especially Latino women.
Until the 1950s, Amsterdam was a company town, Dauria said, in which every third person was employed in the carpet industry.
Dauria said, "People that moved here in the early century to work for the carpet mills did very well and they sent their children to college. They talk about the toil and the struggle, and there was a lot of that. The toil and struggle brought them prosperity eventually. It's a success story and a really sad story when you finally hear that by 1968 no carpets are being made in Amsterdam. It was gone. But that's a story that you can hear in other towns, too, in the U.S."
| | |
| --- | --- |
| Anthropologist Susan Dauria studied the exodus of the carpet industry from Amsterdam for her doctoral dissertation. Dauria took this photo of Willow Street in Amsterdam, the former Bigelow Sanford complex. | |
Dauria found people in Amsterdam were "pretty generous" in usually not blaming the carpet industry for leaving town: "They kind of say, well, this is a capitalist market. In order for the company to survive, they had to move on."
She found local people were angrier over the performance of Coleco, which came to Amsterdam in 1968. The company boomed in 1983 with the Cabbage Patch doll, only to face bankruptcy in 1988 with the ill-fated production of the Adam computer.
Dauria also has described how older European immigrants and newer Latino immigrants have clashed: "The generation that came here earlier, they're much older now and they have a different outlook about what it is to be an American and what it is to be successful. This latest group has a very different reality."
She added, "They all want the same thing. It's really ironic. Everybody wants a nice place to live, a little bit of economic security."
Dauria found Amsterdam still maintains a small town feeling and that the people she met in the early 1990s were key to that pleasant ambience.
"I am indebted to this community," Dauria said. "My dissertation wouldn't have been successful if it weren't for people talking with me. For example, sometimes I would meet someone through a contact of a contact of a contact and I would talk with them and they would tell me their whole life story. So I had a really nice experience there. I miss it on some level. I miss Amsterdam. So you know, even though people can be critical of it, as an insider I had a nice, a very nice experience."
Susan R. Dauria's doctoral dissertation is called Deindustrialization and the Construction of History and Ethnic Identity: The Case of Amsterdam, New York. There are copies in the library and Department of Anthropology at SUNY Albany. Also, IUP and UMI Dissertation Services, 300 N. Zeeb Rd., Ann Arbor, Michigan 48106 has a microfilm facsimile available.
Undaunted Woman Erects New Home
The descendants of a woman who came to Amsterdam in 1913 have lovingly preserved the story of how this remarkable individual kept her family of nine children together after her husband's unexpected death.
Mary Teresa Sieminowicz considered herself Polish, but came to America in 1913 from the then Austrian village of Mariampol, a village now part of Russia. As Amsterdam pastor Fr. Walter Czechowicz has pointed out, there was no country of Poland during the great wave of Polish migration in the early 20th century. In their hearts, however, these immigrants to America were Polish.
Mary was 17 when an agent came to Mariampol looking for "talented and self-sufficient people" willing to relocate in the United States. Mary's mother sold the family's baby pigs to finance the $100 cost of Mary's venture. A seamstress in the village told Mary about opportunities in Amsterdam, New York. The day after arriving at Ellis Island in June 1913, the young immigrant boarded a train for the Carpet City.
Local homeowners of the time met the trains and offered lodging to newcomers. Mary rented space on VanDerveer Street for $3 a month and found work as a spinner at Morris Mills. She was paid $6 each 55-hour workweek.
Mary moved several times and met the brother of a woman she boarded with at a residence on Jay Street -- John Leszczynski. Mary and John married in 1915 at St. John's Church on Park Hill and lived on Grand Street. Mary continued working at Morris Mills and John worked at Broadalbin Knitting Mills. Mary sent $5 and $10 contributions periodically to her mother to pay off her $100 debt for her passage to America. Her mother died a few years after World War One and Mary lost contact with her relatives overseas.
In all, Mary and John had 11 children, nine of whom survived to be adults. The family moved to Cohoes where both parents worked in the mills.
In 1919, Mary and John moved to a 200-acre farm on Big Murray Road on the outskirts of Broadalbin in the Town of Galway, Saratoga County. In 1929, the family moved back to Amsterdam, exchanging properties with a family on Swan Street. The next year, the Broadalbin farmhouse burned down and the exchange family disappeared. Not able to afford both mortgages, Mary and John moved back to the farm, converting the chicken coop into living quarters. John continued working at Broadalbin Knitting Mill while the family began building a new farmhouse.
In May 1937, John died of a heart attack while working at the mill. Mary was a 40-year-old widow with two sons and seven daughters, ranging in age from three to eighteen. She was determined to finish their farmhouse.
Most livestock and farm equipment were sold. She continued her child rearing and farm work and tried to work outside the home. The older children quit school and went to work to raise money. The family moved into the farmhouse that November.
"Both the will and the body of Mary Leszczynski are strong as the concrete foundation of the new home in which she and her nine children live triumphantly," wrote the Knickerbocker News in a feature story about Mary's achievement in 1938. The headline read: "Undaunted woman erects new home: carries on after death of husband to move her nine children from their quarters in chicken house."
In the 1940s, the older children secured jobs that brought in extra income. Her children married and grandchildren were born. In 1947, Mary became an American citizen.
Mary died in 1983 at the age of 86. Daughter Jennie continued to live on the farm until her death in 1999. Late that year, the family sold the farm.
"Her strong work ethic and determination serve as an inspiration to all of us who share in her heritage," wrote Mary's granddaughter Katherine Slezak Snyder of Amsterdam in a book about Mary's life compiled in the year 2000. That book is the basis for this column.
Snyder wrote: "Over the years, Mary's dreams of great opportunity were replaced by language barriers, family loss and economic difficulty. She became widowed with nine children, yet managed to keep her family together through the toughest of times."
Smoke -- Carpet Mill Picture Book Awakens Wartime Memories
Two years after the boys came home from World War Two, Mohawk Carpet Mills in Amsterdam published a small but handsome picture book called Smoke: The Story of a Fight.
The idea of the unusual title was to link the smoke of hearth fires and factories on the home front, "the servant of man," with the smoke of warfare, "the master."
The book was dedicated to the 1200 men and women of Mohawk "who answered the call to duty" and "the thirty-three who will never return." Loy Baxter designed the book.
In a printed insert, Mohawk president Howard Shuttleworth expressed pride in company workers "who gave unselfishly of their time and who spent long hours at their machines that we might fulfill the demands of the War Department for our wartime products."
The fabric used to bind Smoke is canvas, produced at Mohawk during the war. From 1941 to 1945, Mohawk and Bigelow Sanford, the city's other major carpet mill, converted production to the manufacture of canvas, tarpaulins and blankets. Millions of yards of cotton duck were made in Amsterdam and used for tents, tarpaulins and gun and turret covers. Amsterdamians also produced more than five million blankets for the war effort.
"Men lived in blankets," wrote Mohawk executive Reginald Harris, the author of Smoke. "Men waited in blankets. Men fought in blankets. Men died in blankets."
The machine shop and foundry at the carpet mills also turned out war products -- a control stick support for the Navy Hellcat fighter, for example, and machinery used in radar, landing craft and tanks. Other local products made for wartime use included rayon for airplane tires, bulletproof gasoline tanks and torpedo turbine wheels.
Mohawk employed a record 5,500 workers during the war at its lower mill in the East End and upper mill on Lyons Street, the factory complex devastated by fires in 1992 and 1994.
In World War Two, as in all American wars of the past hundred years with the exception of the current war on terrorism, there was a definite distinction between the home front and the overseas war zones.
The home front in World War Two was marked by rationing, blackouts and salvage drives.
Amsterdam historian Hugh Donlon wrote that gasoline, meat and other commodities were rationed. Restaurants were exempt from meat rationing, according to Donlon, so that "the more affluent were eating out, enjoying meals of higher grade while saving (meat ration) stamps issued for home supply."
"It was a new discipline for the freedom-loving and many resented the irksome restrictions," Donlon wrote.
Blackouts were conducted at night with "full public compliance" never achieved, said Donlon, despite extensive efforts. Similarly, daytime air raid drills, announced by a siren atop the downtown bank building, had mixed results as people scooted from downtown doorways to check on air raid compliance.
"This laxity was condoned," Donlon said, "with explanation that there would probably be livelier response if real bombs were to fall."
In Smoke, Harris described local volunteer and salvage efforts during the war: "Mohawk people gave up their leisure hours to roll bandages, collect clothing for wartorn countries and raise thousands of dollars for relief."
Harris also lauded blood, bond and salvage drives on the home front: "It got so you didn't dare put your evening paper down for fear of losing it to the salvage drive."
A native of England who came to America when he was 18 months old, Harris worked in personnel at the carpet company, was convention director and personal assistant to the company president.
Harris is best remembered as a choral director and musician; he had earned a music degree at Syracuse University. From 1940 until his unexpected death at age 55 in 1960, he directed vocal music groups sponsored by the carpet mill, most notably the Mohawk Mills Chorus, the predecessor of today's Mohawk Valley Chorus. He was also organist and choir director at St. Ann's Episcopal Church.
Material for this article was derived from Smoke: The Story of a Fight, by Reginald Harris and Amsterdam, New York: Annals of a Mill Town, by Hugh P. Donlon.
Ames -- A Quaint But Active Montgomery County Village
Ames, located a little over six miles south of Canajoharie on Route 10, counts 200 souls and is one of the smallest villages in New York State.
It is a "quaint but active" community, according to lifelong resident and village historian Maude Van Arsdal.
"Old home day" parades in summers past in Ames attracted as many as 15 thousand tourists. To this day, the Fire Department feeds over a thousand people at periodic pancake breakfast fundraisers, which are promoted on highway signs on Route 10.
Author E.B. White visited the area in the 1940s and was so taken with Ames that the village figures in a scene from White's popular children's book, Stuart Little. Stuart, a talking mouse, loves the "high white houses" and elm trees "higher than the houses" in Ames. It is "the loveliest town of all," wrote White.
In the book, Stuart Little has a soda at the store at the village crossroads. The business is now called Anderson's Store. Built in 1883, the building at first was known as Scott's Opera House and later as Winnie's Music Hall. The 19th century opera house was on the second floor. The open space later was used for roller skating, basketball and by the Baptist Church for dinners to raise money to pay the minister.
While European settlers along the Mohawk River near Ames were mainly German, New Englanders settled Ames about 1760. The village was named for Fisher Ames of Dedham, Massachusetts, a Revolutionary War patriot and politician who served in Congress and who also was president of Harvard.
In 1837, the Ames Academy opened as a private school. The building earned a coveted listing on the National Registry of Historic Places in January of this year. Built by the African slaves of Abail Bingham in 1835, the thick-walled stone structure is on Latimer Hill Road on land donated by the Bingham family.
In 1859, Ames Academy boasted 305 books, two teachers and 80 students, 67 of whom studied the classics. Students boarded at homes in the community. Around 1870, the institution became a free school and continued as a public school in the Canajoharie district until 1959. The last teacher was Gertrude Hague.
In 1987, then village mayor Leon "Gus" Van Arsdal, husband of historian Maude Van Arsdal, was instrumental in creating the Ames Museum in the academy building. At the time, village offices were in the building as well. Mayor Van Arsdal died before the grand opening of the museum in 1988.
Currently open in the summer months, the museum has advertisements for shows at the former opera house, old school desks, original books from the Academy, a circus diorama and displays on village activities through the years.
Incorporated as a village in 1924, Ames was once bigger than Canajoharie, Maude Van Arsdal said, and had a nail factory, grist mill and paint shop. At one time, the settlement had three orchestras. Residents manufactured pumps, baskets, caskets, feather beds and deed boxes. The village was a stop on the Underground Railroad, where slaves were hidden who were fleeing to freedom in Canada.
New York Judge of the Common Pleas Phenias Randall lived and practiced law in Ames in the 19th century. In 1819, Judge Randall's son Alexander was born. Alexander Williams Randall became an abolitionist who moved west and served two terms as governor of Wisconsin. Randall, New York is named for Alexander Randall.
Randall served President Lincoln as ambassador to the Papal States, was appointed Assistant Postmaster General in 1862 and Postmaster General in 1865. Randall alienated many Wisconsin residents with his support for President Andrew Johnson, Lincoln's successor. Randall did not return to Wisconsin after his years in Washington; he died in 1872 in Elmira, New York.
Kelloggs & Miller Linseed Oil Company --
Major Industry in Old Amsterdam
February 3, 2002
In winter, it's colder inside the old Kelloggs & Miller linseed oil mill than it is outside. But a walk through the former factory on Church Street in Amsterdam is worthwhile. The structures are full of history and perhaps a literal ghost of the past.
Reid Hill businessman Joseph J. Slezak, whose family owns the complex, tells visitors how one day an inside light stopped working. Slezak called an electrician who found a switch had been thrown in an inner room, behind three locked doors.
Linseed oil is used as a drying ingredient in paint, varnish, linoleum and other products. In the nineteenth century, some linseed, also called flaxseed, was grown near Amsterdam and in other parts of America. However, a great deal of the raw material used by Kelloggs & Miller came by barge from the Near East and was cleaned, crushed, heated and pressed at the Amsterdam mill. The linseed oil drained into troughs and then was aged in large metal vats inside six brick roundhouses. Much oil was shipped in five-gallon containers, which have become collector's items. Large customers received oil from the company's railroad tank cars. The residue from the oil making process became seed cakes that were shipped to Europe for animal feed.
The Kelloggs became one of Amsterdam's most prominent families. Supplina Kellogg founded the linseed oil business in West Galway in 1824. In 1850, Supplina's sons, John and Lauren, moved the operation down the Chuctanunda Creek to Amsterdam, taking over a former distillery, that had been owned by Amsterdam merchant and politician Benedict Arnold. Lauren died in 1853. James Miller, Lauren's brother-in-law, became part of the company and the name was changed to Kellogg & Miller. In 1858, John Kellogg built an early Italianate Victorian home on Church Street below what is now City Hall. Today, that home is the law office of Sise and Sise.
In 1872, the company name became Kelloggs & Miller when Spencer Kellogg, Lauren's son, and George Kellogg, John's son, came into the firm. Spencer and his uncles had difficulty getting along and Spencer sold the Kelloggs his share of the business after five years, left Amsterdam and founded his own linseed oil company in Buffalo.
In Amsterdam, Kelloggs & Miller expanded with new buildings and an 1879 rail link, connecting the factory with the New York Central main line. The most elegant new structure was an 1874 administration building that cost $10,000. Carpet magnate Stephen Sanford, whose own mills were nearby, told the Amsterdam Democrat that the Kelloggs & Miller administration building was "not excelled in the state."
| | |
| --- | --- |
| | 1874 Kelloggs & Miller administration building, 1924 photo. |
Even today, the long unused private and public offices in that building are impressive. The private office has Italian marble tile, a fireplace and a 19th century time clock, built by an Endicott company that was a predecessor to IBM. The public office contains a massive, intricate and handsomely decorated metal safe, installed in 1884. Slezak said the workers were paid in cash and the public office is arranged like a bank, with teller windows that bear the company logo in etched glass.
Said to be the oldest linseed oil company in America, Kelloggs & Miller at its peak also had plants in Chicago Heights, Buffalo and Philadelphia. In 1887, the Amsterdam mill employed an estimated 500 people, although Slezak said regular employment in later years was about 75. The last new building was constructed in 1910. John Kellogg died in 1911. He and other Kelloggs are buried in an impressive circle of stones at nearby Green Hill Cemetery. The company was sold to Bisby Linseed Oil Company in the 1930s and Bisby closed the Amsterdam mill in 1948.
Stephen Slezak, Joe's father, bought the abandoned complex in 1952, for warehouse space and storage for the Slezak fuel oil business. Fuel oil was stored there until 1971. Parts of the mill have had various tenants over the last fifty years -- bank records storage, a boat maker and a steel plant. A doctoral dissertation was written some years ago on restoring the complex but the project did not proceed. Today, one structure, the former flaxseed warehouse, is in ruins along Church Street but other buildings are mainly intact. Inside the old mill you find 19th century firefighting equipment, chains to haul items from the canal and a belt-driven elevator.
| | |
| --- | --- |
| Joe Slezak, whose family owns Amsterdam's former Kelloggs & Miller linseed oil mill, in front of antique firefighting equipment inside the mill. | |
Joe Slezak has a real appreciation for the historical importance of the old buildings that have been part of his family's life for half a century, pointing out details like cast iron cornices on the administration building and the stone railroad trestle with the date 1914 etched on its side.
"They did things in a grandiose way," Slezak said.
A Wonderful View of Amsterdam
January 20, 2002
The view of Amsterdam is breathtaking from the home on top of Beldens Road in the Town of Florida where Tom and Kathy Foster live with their young daughter Gillian. Inside their home, 33-year old Tom Foster has a two-year collection of artifacts from old Amsterdam that are wonderful to see.
Foster has two Sanford carpets from the 1920s, one a Fervak and the other a Beauvais weave. He has a bigger Bigelow Sanford carpet from the 1930s or later. He has a book with pictures of carpets used as a selling tool; his copy had been owned by Stephen Sanford. His den includes a mounted 1920s ad for Sanford carpets and a Kellogg and Miller Company linseed oil container. His books include Board of Trade annual reports and minutes from common council meetings of almost one hundred years ago. The 1908 common council book has a photo of the city fathers.
Foster's over 175 postcards have been digitized and he enjoys seeing them pass by in slide-show form on his computer screen. There are scenes of the Erie Canal, the old covered river bridge, the bridge washing away, Sanford's horse farm, downtown in the 19th century, the old stone school building on Division Street and the ornate interiors of the city's old hotels and YMCA.
| | |
| --- | --- |
| | Interior of the Amsterdam YMCA, Division St., from a postcard printed between 1915-30, from the collection of Tom Foster. |
He has a collection of ephemera, paper products such as an Amsterdam bank note, invoices from local companies and a letter from a traveling salesman to his wife, written on stationery from the old McDonnell House hotel in the East End.
Foster's collection began with a milk bottle from Olbrych's Dairy that was found on his grandmother's farm in Mariaville. Most of the objects have been purchased through the Internet.
Meeting a young man so fascinated with local history is heartwarming for those of us whose interest in such matters is spurred by actually having lived through some of those historic years. Foster is a young person with a real appreciation for the past.
Foster was born in 1968, the year that carpet production ceased in Amsterdam. His dad worked at Inman's box mill. He remembers one downtown trip to buy a baseball hat at W.T. Grant's and says that, to him, old Amsterdam was the city that existed before the mall was built.
Foster's first four years were lived on Park Street near the Bigelow Sanford mills but most of his growing up took place in the Housing Authority development on Division Street. He was a member of the last class of the old Academy Street school and is a graduate of Amsterdam High. After work in theater and bartender jobs at the former Tepee Restaurant in the East End and other well known Amsterdam area spots, he went into computers, earning a degree from Fulton-Montgomery Community College. Currently, he is a programmer at the Grandoe Corporation in Gloversville, a firm that still makes gloves, albeit overseas. He also has a DJ business as a sideline.
"When I grew up here there was a richness, not in terms of money and things like that but community wise," Foster said. "I'm fascinated by architecture. Old buildings and old things interest me. It's sad when you see the buildings they are knocking down. There's mystery (in collecting) too."
Foster has volunteered his computer and history skills to help solve some of the historical mysteries at the Montgomery County Chamber of Commerce and the Walter Elwood Museum. He is scanning the printed archives of the Chamber and taking digital photos of items in the Elwood collection. In the future, he might publish a book based on his postcard and photo collections.
Tom Foster is interested in talking with other collectors or with those who would like to find a home for their old Amsterdam artifacts. He can be reached at 843-2765.
Walter Elwood, Founder of Amsterdam's Museum
January 6, 2002
Walter Elwood was a character. When he visited Amsterdam's schools, he walked because he didn't drive a car. He had a tall, robust but ungainly frame and a deep, gravelly voice. An educator, he was well-loved by a generation of students. He was a world traveler, a collector and a conservationist. He wrote two novels and collaborated for a year with lyricist Oscar Hammerstein II. Elwood had a "fund of knowledge," said retired Amsterdam library supervisor and educator Evelyn Riccio, adding that Elwood "liked nothing more than to talk about his travels, birds and seashells."
| | |
| --- | --- |
| Walter Elwood and Friends at his Amsterdam Museum. | |
The Walter Elwood Museum at 300 Guy Park Avenue in Amsterdam is his legacy. The local school system still owns the museum collection but volunteers and consultants from the Mohawk Valley Heritage Association are assuming more responsibility for the facility. The museum has a treasure trove of photos from Amsterdam's past, some of which are featured in a 2002 calendar issued by the Elwood Museum as a fund raiser.
Born in 1886 in the Town of Florida, Walter Elwood graduated from Amsterdam High in 1904, earned a bachelor's degree at Cornell and went to the Philippines for eight years to instruct teachers in this new American possession.
He wrote a novel called Guimo about a young Filipino man. According to the dust jacket, "with Guimo the veneer of civilization is thin -- the red blood and the rich soul come all the closer to the surface." A second Elwood novel dealt with the Erie Canal and Port Jackson, the old name for Amsterdam's south side. Those Terrible Teenenfelters was published after his death.
When Elwood returned from the Philippines in 1912, he became principal of a school in New Market, New Jersey. In 1916, he volunteered to serve in France with the Red Cross in World War One.
After the war, he spent a year in New York City as a playwright and author's assistant to Oscar Hammerstein II.
Elwood returned to Montgomery County and was superintendent of an educational district. He began the county's 4-H Clubs. He taught at Guy Park Avenue School and the junior high in Amsterdam. He was one of the organizers of the city's Sassafrass Hollow bird sanctuary in 1931 and president of the Sassafras Bird Club from 1933 to 1937.
In 1939, he began his Amsterdam Public School Museum, stocking six large rooms in the old Fifth Ward School on Perkins Street on the south side with 10,000 items, many from his own collections. That building is gone now and housing has been built in that location.
There were international, early American, animal, bird and geology rooms in the museum. The international collection included robes from Africa, a bamboo pillow from China and sleeping mats from the Philippines.
Elwood supervised the city's Victory Gardens in World War Two, headed the county SPCA for 16 years and helped rewrite the state's science and social studies syllabus in 1951 to include information on conservation.
His first wife died early on. In 1926 he married her sister, Anna Bevillard Mack from Chicago. Anna survived him; they had no children. Walter Elwood died on April 28, 1955. Ill health had led to his resignation from the school system three months earlier.
Amanda Powell, one of Elwood's assistants (the other was Nellie Brannigan), kept the museum going until 1960. In late 1967, the museum was moved from the South Side to the former Guy Park Avenue School.
Evelyn Riccio supervised the museum and public school libraries in this era. Mary Margaret Gage and Ed Ruman moved the museum's items across the river and Gage began her long and productive association with the museum. The Elwood Museum opened in its Guy Park Avenue location in May, 1968.
The Elwood Museum - Amsterdam's Attic
June 9, 2002
The Walter Elwood Museum at 300 Guy Park Avenue is Amsterdam's attic. Its holdings include punch cards used in weaving Wilton carpet, an early 1800s street lamp, Victorian clothing, an elephant's foot and a Tin Man costume.
The elephant's foot is popular with baby boomers. Museum founder Walter Elwood used to stick young children inside the foot, probably to emphasize the elephant's size.
The Tin Man costume was made by late industrial arts teacher Harold Klump. As an Amsterdam high school student in 1968, WNYT Newschannel 13 reporter John Allen wore the costume in a theatrical production of The Wizard of Oz, directed by Bert DeRose.
An educator, world traveler and collector, Elwood started the museum in 1939 in the city's former Fifth Ward School on the South Side. Elwood died in 1955 and, in 1968, the museum moved to its present location, the former Guy Park Avenue School. Mary Margaret Gage began her long and productive association with the museum at that time.
The local school district still owns the museum building and collection. The school district, however, has not had the funds needed for proper maintenance of the facility in recent years. In 2001, the Mohawk Valley Heritage Association began managing the museum and appointed Ann M. Thane as director.
In May, a WCSS radiothon hosted by talk show personality Tony Benjamin raised a remarkable $11,000 from local residents who consider the museum part of their heritage. Other fundraisers are on the way and the museum hopes to raise $100,000 this year.
"The museum can be a force for change, an economic boon," Thane said, noting that the Schenectady Museum attracts 100,000 visitors a year.
The first major improvement at the Elwood will be a redesign and rebuilding of the first floor Amsterdam Room, where the city's industrial past is highlighted. Working on this project is set designer Marcia Aulisi, who designed the Noteworthy Indian Museum in Amsterdam. Marcia Aulisi is married to local native and renowned Broadway and Hollywood costume designer Joe Aulisi.
Thane wants the new Amsterdam Room exhibit to begin with agriculture as a major industry and focus not only on carpet mills but also on the manufacture of products such as buttons and brooms. "Seven million brooms were made here," Thane said.
Also on the first floor of the Elwood are the Native American/Pioneer Room, the Nature Room (with its imposing walrus head, complete with tusks) and the Victorian Room.
Thane is particularly proud of the Victorian items-a three dimensional viewer called a stereoscope, clothing, hand-woven rugs and mourning jewelry. Mourning jewelry was made from human hair starting in the 1840s. The practice accelerated as soldiers went to fight in the Civil War.
On the second floor, there are paintings, prints and capes, gowns and dresses from the Victorian era to the 1960s. There is an extensive file of photos, including many taken at the city's mills. Also on the second floor, there's an early General Electric television, a small room devoted to Thomas Edison and the Tin Man costume.
Last year, the Mohawk Valley Heritage Association adopted a mission statement that says future acquisitions at the museum should pertain to the history of Amsterdam and the Mohawk Valley. However, the museum started with Elwood's eclectic personal collection and, through the years, whatever came through the door was seldom refused.
A trip to the Elwood attic turns up many wondrous objectsÑshoes, hats, gloves, parasols, guns and animal skins including skins from a leopard, polar bear and grizzly bear. There's a hand drawn fire cart, kitchen equipment, housewares from the 1800s, baskets (some Iroquois) and a 1930s vacuum cleaner, called The Airway. There are framed prints, sewing machines, spinning wheels, crockery and beds.
Thane hopes to make use of a real Amsterdam artifact in the attic, an early 1800s oil street lamp from the South Side. The attic also contains a large collection of wicker objects, including a pram and doll carriage.
The Elwood attic, Thane said, needs a major assessment and reinventory. The attic is not heated or air-conditioned and temperature extremes have taken a toll on objects stored there. Also, many items are in cardboard boxes. As it ages, cardboard harms objects stored within and, Thane said, the cardboard boxes need to be replaced with proper archival boxes.
Prior to becoming director of the Elwood Museum, Thane was a freelance graphic artist, writer and illustrator in Amsterdam. Previously, she was art director and assistant art director at advertising agencies in Albany and New Jersey.
Downtown Amsterdam at Christmas
December 23, 2001
A December, 1942 photo of downtown Amsterdam brings back memories of the city's once bustling Main Street.
The photo was used by the lateTony Pacelli in his 1980s book, Past and Present. A roving photographer took the shot, which shows the late Ralph D. Orsini standing in front of S.S. Kresge's, waiting for his wife, Mary. The picture was taken at the intersection of Railroad and East Main Streets. The Kresge building was fairly new then, a two story brick building constructed in 1925 to replace the Corey Block.
There is no snow but the street is full of shoppers, warmly bundled in coats and boots. One woman is wearing saddle shoes. Men and women are wearing hats. A large styrofoam snowman with a straw hat is in Kresge's window, with smaller snowmen in front.
Cars are parked diagonally along the curb; there are Christmas decorations strung across the street. This is wartime and a soldier is in the foreground.
The picture was taken a few years before I was born, but the feeling the feeling it conveys of downtown as a bustling meeting place is a strong memory.
My mother worked on Main Street at the Singer Sewing Center in the 1950s and often I spent Friday nights with her; all the stores were open Friday nights.
The word "homeless" was not part of the vocabulary then but there were beggars. One man, with only one leg, had a regular spot next to one of the 5 and 10s selling pencils.
There was excitement at Christmas time when my sister came home from college on the train, which we reached through the smelly tunnel at the end of Railroad Street. We would grab a bite to eat at the Maxwell House Diner, later Tullio's, located on Chuctanunda Street along the creek. Sometimes, we ate at the counter at Kresge's, where the gravy on the turkey dinners had this odd, yellow color, a color not found in nature.
"Amsterdam felt so alive then," Maria Riccio Bryce wrote in her Amsterdam Oratorio, saying that the old downtown was a "backdrop for life" where "the laughing, the free and the broken-hearted made their own way down Main Street." Veteran performer Matthew Cinquanti gave a show-stopping rendition of Riccio Bryce's "Elegy for Downtown" when the Oratorio premiered in October.
The core of Amsterdam's old downtown was Main Street from the Market Street intersection east to Washington Street, where the VFW Building is located, along with that section of Market Street that proceeded north toward Grove Street.
There may be things we miss more about Amsterdam's old days than downtown, but I can't think of any. The "greatest generation" remembers Kansas "Electric Restaurant" and the old F.J. & G. waiting room. Amsterdam had its share of unusual store names then: Cancellation Shoes, the Odd Lot Bazaar, Mrs. Gulnick's Pie Shop.
Baby boomers remember crowding into booths at Wilson's drug store as teen agers. The latest hit song played over and over on the loudspeaker outside Dangler's music store. Main Street in the 1950s and 1960s was a scene from the movie American Graffiti, boys cruising and girls flirting.
Lurie's department store had pneumatic tubes which sent money and receipts to a central cash register office. There was a green awning leading to Miles Shoe Store. Lumart's Shoes had a foot x-ray machine.
The names of the stores alone bring back memories: Trask's Cigars, Bargain City, Community Pharmacy, Olender's, Larabee's Hardware, Card-O-Rama, Mortan's, Gabays, Conover's Stationery, Wagenheim's Furs, Furs by Gus, Whelan's Drugs, the Enterprise Store, Hallett's, Newberry's and Holzheimer and Shaul.
Although full of people, downtown Amsterdam was actually starting to decline in the 1950s as the carpet mills moved out and suburban shopping centers beckoned. In his book, Annals of a Mill Town, historian Hugh Donlon said that after 1950, downtown modernization "slowed to a walk."
Donlon wrote, "Remodelings were focused toward modernized frontage, and with almost total disregard for appearances of rear entrances. Ornate facades were camouflaging a multitude of deteriorations, yet a general impression of wornoutness persisted."
By the 1970s, the heart of Amsterdam was taken for the downtown mall and a series of arterial roadways and one way streets that confuse people to this very day.
Optimistic Amsterdam Newspaper Editor
Addressed 1902 Board of Trade
December 9, 2001
Amsterdam's Board of Trade, the predecessor of the Montgomery County Chamber of Commerce, was instrumental in the movement to make Amsterdam a city in the late 19th century and left us annual reports that are telling snapshots of life in the Mohawk Valley 100 years ago.
Historian Hugh P. Donlon says that Amsterdam's first attempt to incorporate as a city in 1884 was brushed off by Governor Grover Cleveland and the legislature. Apparently, the local delegation had not gone through the proper political channels and lacked a formal promotional organization.
About 100 civic boosters quickly organized the Board of Trade to lobby the politicians in Albany and the Amsterdam city charter came into existence on April 16, 1885.
The Board of Trade met at first in a building on Church Street and later in the Sanford Homestead Building on the east side of Market Street near Main Street. Industrialists such as Stephen Sanford and Theodore Yund were key to the organization, which also included merchants such as Dater Shaul, physicians such as S.H. French and clergymen, politicians, lawyers and even newspaper people.
In 1915, a Chamber of Commerce was formed in Amsterdam using a wider membership base than the Board of Trade. The two organizations merged -- using the Chamber name -- in 1926.
From 1886 to 1915, the Board of Trade issued annual reports, at first called Industries of the City of Amsterdam and later known as Board of Trade Manuals. Many area individuals treasure these books, which provide accounts of each year's annual meeting. A selection of the manuals can be found at the Amsterdam Free Library.
One hundred years later, the optimism in the Board of Trade Manuals is astounding. In a quote from a 1905 meeting, it was stated: "The natural advantages for manufacturing purposes are practically inexhaustible. Amsterdam possesses all the elements for the growth of a great and prosperous city. Within 20 years it ought to have a population of 50,000."
At the 1902 annual meeting, newspaper editor George H. Loadwick gave an impassioned speech praising the city's growth from the time of its founding as Veddersburgh, a late 18th century hamlet that grew around Albert Vedder's gristmill at the mouth of the Chuctanunda Creek.
"The creaking of Vedder's mill has given place to a chorus of industry in which thousands of mighty wheels whirl and spin in merry thrift," Loadwick said. "The old creek, once the power upon which the commercial life of this community depended may now ripple along in its lazy beauty since steam, with all its power, has pushed it aside."
According to Washington Frothingham's History of Montgomery County, newspaperman Loadwick had a "keen wit," was a brilliant debater and was "blunt and abrupt in manner and speech." In Amsterdam, Loadwick was editor of The Recorder from 1878 to 1882 when he took over as editor and owner of The Sentinel, which became a daily paper under his leadership. Frothingham wrote that Loadwick's Sentinel was "aggressively progressive" in its editorial stance.
In his 1902 Board of Trade speech, Loadwick praised the progress of Amsterdam's industries: "The carpet mills, the oil mills, the knitting mills, foundries, rug mills and scores of other industries, great and small, that add to the noises of the world are active evidences of the strides of enterprise and advancement."
He said that wagon springs made in Amsterdam "afford comfort to the carriage riding world" while "every well-kept and well-swept household in America" benefits from Amsterdam-made brooms.
In 1870, Amsterdam had 7,000 residents. When Loadwick addressed the Board of Trade in 1902, the city's population had tripled to 23,000. The population would grow to 35,000 in the 1920s but then begin a decline to the present day, when the population is under 20,000.
But Amsterdam remains a resilient community, a place, for example, that has spawned artistic endeavors including the acting of Kirk Douglas, the Latin music of Alex Torres and Maria Riccio Bryce's brilliant and poignant "Amsterdam Oratorio."
And one aspect of the city's situation in 1902 is still the same -- its beautiful natural setting in the Mohawk Valley.
As editor Loadwick said 100 years ago, "The river, the hills, the valley, the landscape, the wood and the plain, are all given bountifully to this fair region, the home of the brave, this abiding place of sterling manhood and the spot we love so well, whether to the manor born or as adopted citizens."
Farms That Ringed A Mill Town
November 25, 2001
Amsterdam is best known for its mills, but farms were never far from the city's smokestacks and looms.
James T. Hammond wrote, "As a native of Amsterdam, I have often been curious about those close-in farms that surround Amsterdam. Of course, most of us are familiar with the Sanford Farm (where horses were raised on Route 30), but how about some of the others?"
Bob Johnson is the Town of Amsterdam representative to the Montgomery County Agriculture Society, which operates the Fonda Fair, and has an interest in the farming history of the region. Johnson still owns his family farm on Truax Road. At 71, he doesn't do much farming, although hay is grown on some of his land.
"After World War Two, the farm population dwindled," Johnson said. "Young people went elsewhere, also farm land in the town was more valuable for development than for farming."
Bob Johnson's grandfather, Hall Johnson, bought the Truax Road dairy farm in 1900. The farm was later operated by Leland Johnson, Bob Johnson's father. The herd of 60 milk cows was sold in 1977.
Bob Johnson recalled some of the town's other well-known dairy farms:
The Point Breeze Farm was operated by Hanson Mabie. In its heyday, the property boasted a classy red barn with stenciled horses on the door at the intersection of Golf Course Road and Steadwell Avenue. Some of the farm lanes had masonry entryways.


The Matthewson farm was on the south side of Route 30, the land was sold for the now defunct K-Mart store.


South of Amsterdam on Route 30 in the Town of Florida were the Voorhees and Nadler farms. The Voorhees spread was called Knickerbocker Farm, the current location of Morini Coal and Oil. Nadler's operated several farms on Route 30 and had a milk plant on Collins Street.
Anna Nadler was a widow who came to Amsterdam's South Side from Germany in the early 1900s. She owned a cow and sold milk products door to door with her sons, Dan and Joe. According to a family member, the Nadlers started a milk plant on Collins Street. The Nadlers bought the Route 30 farms to supply their growing need for milk. The Nadlers supplied milk to schools and sold product to New York City. The Nadlers were known for Guernsey cows that produced rich cream. The family operated the business through three generations, until the 1980s. Today, the Nadler lands on Route 30 are rented to the Terleckey brothers, who raise hay.
Johnson said there are a handful of dairy farms still operating on the north side of the Mohawk River in the Town of Amsterdam. Joe Corona and Mike Opalka own two of these farms, each of them on Lepper Road which runs out of Ft. Johnson. There is the Peddie spread on Wallins Corner Road, the large Balbian farm on Spring Road near the Saratoga County line and the Przybolo brothers on Route 67. Phil Arnold raises beef cattle and grows corn and other crops on Swart Hill near Mount Loretto.
James Hammond, who suggested this column, recalls a man named Commings who pastured cows in the City of Amsterdam between Glen Avenue and the current Lynch Middle School, the former high school.
Hammond wrote, "I remember him leading his cows up from what I think was an area on Union Street and tethering them with a chain to metal posts he drove into the ground. His pasture included an area from Union Street up as far as Arnold Avenue in the area east of the Lynch school. In order to walk to the school from Glen Avenue, there was a dirt path which is now the extension of Bunn Street. We walked among the tethered cows and, of course, the cow flops on our way to school. The cow flops also made for good fertilizer for our Victory Gardens."
The Other Benedict Arnold
November 11, 2001
Soldiers from Amsterdam have taken part in America's wars for 200 years and are playing a role in the war on terrorism.
Amsterdam's cemeteries have military sections. Green Hill Cemetery, the oldest major burial ground in Amsterdam, even has a gun mounted near where World War One veterans are buried.
Located south of Church Street near City Hall and the Sanford Mills, Green Hill was created in 1858, in time to receive the city's Civil War dead. It stretches all the way to Cornell Street on Reid Hill and the front door of St. Stanislaus Church.
The cemetery used to be surrounded by an iron fence, with gates donated by the Sanford family. The fence is gone. Long neglected, Green Hill has had more attention lately. On a fall day, a drive through its leaf-covered roadways is a powerful experience. Here indeed is a city of the dead.
One of the best known tombstones at Green Hill marks the grave of a prominent Amsterdam politician and major general in the first half of the 19th century, the unfortunately named Benedict Arnold.
Amsterdam's Benedict Arnold was not related to the Revolutionary War traitor of the same name, a fact noted by the Library of Congress when Amsterdam's Benedict Arnold died in 1849. One presumes his remains were moved to Green Hill from another location or, perhaps, the larger cemetery was built around that grave and others.
City librarian Esther Dean remarked how tough it must have been for Amsterdam's Benedict Arnold to live down the reputation of his well-known and infamous namesake.
Born in 1781 in Rensselaer County, the "other" Benedict Arnold first moved to the Town of Florida and relocated to Amsterdam in 1808. He operated a store at the corner of Market and Main streets.
Along with attorney Marcus Reynolds, Arnold is listed as one of the founders of the Amsterdam Aqueduct Company in 1829, a company that supplied the growing community with water. The company laid pipes west of the Chuctanunda Creek and springs were found and pipes laid east of the creek to bring water to thirsty citizens.
Benedict Arnold was active in politics, serving as a member of the New York State Assembly in 1816 and a member of Congress from 1829 to 1831 during the administration of President Andrew Jackson.
When he returned from Washington, Arnold was among those who led the campaign to incorporate Amsterdam as a village. He was the second president of the village board of trustees in 1832. He was Town of Amsterdam supervisor from 1835 to 1836 and, in 1844, was one of the organizers of the first Fonda Fair.
His Market Street home was a landmark that was torn down for construction of the Blood Building, the site now occupied by the Best Western hotel. The 1868 Atlas of Montgomery County indeed shows a "Mrs. Arnold's home" in the appropriate location on Market Street.
Arnold Avenue and the former Arnold Avenue School, built in 1891, were named in honor of the good Benedict Arnold and his family.
His tombstone in Green Hill Cemetery on Church Street was a "must see" for young people who cut through the cemetery on their way home from junior high or downtown in the 1950s.
I was not able to find any information on Arnold's military career. Born too late for the Revolution, perhaps he served in the War of 1812 or in Indian campaigns. Perhaps the title of major general was honorary.
Also buried at Green Hill is Benedict Arnold's grandson, Lieutenant Benedict Arnold Leonard, who was killed in 1864 in the battle of Spotsylvania court house, the lieutenant's twelfth Civil War battle.
Historic Buildings Along Amsterdam's Church Street
October 28, 2001
Some of Amsterdam's most important historic buildings are along Church Street, stretching from Main Street near the river, up the hill to Prospect Street and the old Sanford mills.
In 1999, then Montgomery County Historian Jacqueline Murphy organized an historical walking tour of Church Street. In a real blow to the community in January, 2000, one of the high points of that tour, the United Presbyterian Church at the corner of Church Street and Route 5, was destroyed by fire.
The Romanesque structure had been built of brick with limestone trim and dedicated in 1870. The sprawling church and its steeple dominated the Church Street skyline.
Mill workers and mill owners worshiped at United Presbyterian, known as Second Presbyterian during the prime of the carpet industry in Amsterdam. The Sanfords, who headed the city's first major carpet company, donated stained glass Tiffany windows. The Shuttleworths, executives at Mohawk Carpets, donated more modernistic windows and also commissioned an appropriate window for an industrial city, Jesus blessing the factory workers. The windows were destroyed in the fire.
A new church building is rising on the site and should be ready for occupancy next April. Pastor Dan Wheeler says the new neo-Gothic structure is meant to complement other historic buildings on Church Street. Unlike the original building, the new $2.3 million church will face south to take advantage of sunlight and to remove the main entrance from the rush of traffic on Route 30.
Across the street from the church is the Amsterdam Free Library, which opened in 1903 thanks to a $25,000 donation from philanthropist Andrew Carnegie. A wing at the rear of the library was added in 1980.
Carnegie's donation required the building be named a "free library" (as opposed to a subscription library) and that the city pledge its ongoing support for the facility.
Historian Hugh P. Donlon notes that city aldermen were hesitant about the idea of ongoing library maintenance, but went along with the proposal after a meeting at alderman Frank Parmentier's saloon on Railroad Street.
Carved in stone over the library's front entrance are the words, "Open to All." Generations of Amsterdamians are familiar with the interior of the stately old building with its oak woodwork, large reading tables and stairway to the second floor children's library.
The man who asked Carnegie to support construction of the library was Amsterdam physician S.H. French. At the cornerstone ceremony, Dr. French paid tribute to the city's growing industrial importance, "The whir of spindle and wheel will penetrate even the rooms set apart to reading and meditation, a constant reminder of the fact that thought and action must be inseparable. The toiler, not the idler is on the one for whom libraries are founded."
Amsterdam's post office is south of the library on Church Street. Built during the Depression in 1936, it was designed by U.S. Treasury architect Louis Simony in the colonial revival style.
Two interior murals are striking. One shows a 19th century scene on the Erie Canal and the other depicts 18th century colonist Sir William Johnson and the Mohawk Indians. The Treasury Department commissioned artist Henrys Schnakenberg to paint the murals in 1939. Amsterdam artist Luc Suer restored them in 1974.
North of the Presbyterian Church is the early Italian ate Victorian home of industrialist John Kellogg, built in 1858. Kellogg's linseed oil mill farther up the hill was a major employer in 19th century Amsterdam. Now the law offices of Side and Side, the former Kellogg mansion features ceiling murals showing flowers, cherubs, birds and flowing ribbons.
A short distance from the former Kellogg home is City Hall, the former Sanford mansion. Stephen Sanford, Amsterdam's most influential industrialist, built a home on this location in 1866, opposite his carpet mills. His son John Sanford and John's wife enlarged the building in 1913 after Stephen's death, adding a third floor, a back wing and the impressive front portico with its Corinthians columns As the Sanfords spent more and more time with international society in Florida and elsewhere, the family donated the building to the city in 1932.
Still farther up Church Street are what remains of the Sanford mills, many of the buildings used by the Noteworthy Company. The Noteworthy Indian Museum is housed in the historic Sanford office building, constructed in 1842 at the corner of Church and Prospect Streets.
New Choral Work Was Performed in Historic Spot
October 1, 2001
Thespians dating back to the high school days of Kirk Douglas have trod the boards of the elegant theater at Lynch Middle School on Coolidge Road in Amsterdam. The building was the city's high school from 1930 until 1977.
The Lynch auditorium was the triumphant setting October 5-7 for the premiere of the Amsterdam Oratorio, a musical impression of the experience of living in Amsterdam, composed by Maria Riccio Bryce.
An oratorio is a musical work that tells a story. Unlike a musical play, there are no conventional characters, dialogue, costumes, sets, or props. Instead, a chorus and soloists sing the story.
About 70 people from the community were in the chorus or worked behind the scenes on the 16-song, 90-minute production in twice-weekly rehearsals.
An Amsterdam native, composer Bryce is no stranger to the Lynch stage. At age nine she began piano lessons with Maria Rulison, whom she recalls as "an austere but deeply sympathetic" teacher. In later years, Bryce accompanied others on the piano and also acted in high school plays, directed by then drama coach and later high school principal Bet Erose.
In 1968, she won the school Thespian Society's Kirk Douglas Award for her role as Anima in West Side Story, still remembered by area theater-goers as an incredibly effective production. Douglas, a childhood friend of Bryce's father Peter Riccio, wrote her a letter of congratulations. Peter Riccio was the one who convinced Kirk Douglas to leave Amsterdam to attend college at St. Lawrence University in Canton, New York. There, after a promising stint as a collegiate wrestler, Douglas honed his skills as an actor and went on to fame and fortune in New York and Holly wood.
In the oratorio, Bryce makes "Kirk Douglas a metaphor for all the kids from Amsterdam who went on to other things and places."
"In ordinary life he was Izzy Demsky, but when stood on that (high school) stage, he was someone else," Bryce said.
In the oratorio, Bryce has Douglas say, "And I knew I could do it, I knew I had to do it, I knew I'd answer the call. And I knew somehow I'd do it, I knew I was born to do it, but to do it, I'd have to leave you all."
Bryce herself left Amsterdam for a career in theater. After graduating from Manhattanville College, she married an Englishman and together they founded a leading "fringe" theater in London in the 1970s. When arts subsidies dwindled in England, the Bryces returned to Amsterdam in 1982.
In the Capital District, Bryce composed and produced the Schenectady musical Hearts of Fire and the musical Mother I'm Here, a tribute to her mother, Alberta Thomas Riccio, who still lives in Amsterdam.
The Amsterdam Oratorio is Bryce's first major choral work. She received a grant from the New York State Council on the Arts to compose the piece and has secured other funding from private sources, including a donation from Kirk Douglas. Ticket proceeds benefited the music and drama programs at Amsterdam High School.
There is a song in the oratorio about going to school in Amsterdam, which features a children's chorus.
There is a requiem, written to honor young men from the city who lost their lives in the wars of the 20th century. This piece brought a standing ovation during each performance and was sung by Bryce's son, Peter Riccio Bryce.
One major song deals with the rise and fall of the mills. The 12-minute piece begins with a list of Amsterdam's mills. Then, Bryce said, you feel the motion of people working all three shifts through a driving bass line. The music slows and ultimately no one is singing. The final section of the song is what Bryce calls "an exhortation to Amsterdam."
"We are not an economic power any more, but we have strengths to draw on," Bryce said. "I think it's in the Amsterdam water. We have endurance, enormous strength. Terrible things have happened here -- economic hardship, the church fire, the mill fires. But, like Rocky, the community keeps coming back."
If you have a topic suggestion for Focus on History for Fulton and Montgomery counties, contact Bob Cudmore at bobcudmore@yahoo.com or at 518 346-6657.