Guide to Nero, New York
The former sock-making capital of the world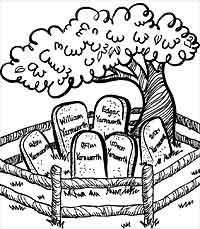 Introduction
No one in Nero believes that anything good will ever happen again. Today, a declining upstate New York mill town, even Nero's beginnings were not auspicious. When the community was founded by British textile interests in the 19th century, the good classical names - Utica, Attica, Troy, Syracuse - had already been claimed by other upstate cities.
Some people thought the name Nero had a good, ancient ring to it, and noted that Nero rhymes with "hero." Nero also rhymes with "zero"and "Zero Nero" has become a common taunt aimed at the Nero High School basketball team when the Fiddlers run onto the court.
Nobody researched history when Nero was named and the connection with the infamous emperor Nero, who fiddled while Rome burned, wasn't discovered until the city's tenth anniversary. By then, the word Nero was lettered on the signs into town and had been carved in stone on a few public buildings. Residents decided to keep the name.
Sock-making was Nero's principal industry and, for many years, Nero was known as Sock City and "the sock-making capital of the world."In the 1960s, the sock mills abandoned Nero for cheaper labor down south and, ultimately, offshore. Nero has never recovered.
Names to Know in Nero
Joe Cassidy, WNRO Radio Morning Host.
"Please, not in my lifetime" is Joe Cassidy's signature putdown to callers with silly ideas, such as the woman who suggested Nero should change its name to Sock City to capitalize on its industrial past. When Joe encouraged listener calls suggesting new names for Nero, one caller proposed Government Check, given Nero's large percentage of people on Social Security and welfare, not to mention those working for the government.
Disease Cotter.
A retired mill worker, Disease was a sickly child and given his lifelong nickname by heartless playmates. A regular at the Four Clover Tavern and Joe's Kitchen, Disease is a member of the Sons of St. Adalbartio. He occupies his time bowling, card playing and observing life in Nero.
Four Clover Tavern.
Located in the basement of a building on a steep hill, the Four Clover is known affectionately as the Kneepad Inn - tipsy patrons crawl out on their knees to keep from sliding down the hill when they hit the street. The serious drinkers gather Saturday morning at the Four Clover for shots and beers.

Carla Gonzalez.
Carla Gonzalez is a single mother, formerly on welfare, who now works three jobs to make ends meet. She opens the dry cleaners at the Nero downtown mall, styles hair at the Klever Kuts salon and does part-time deliveries for UPS.
Joe's Kitchen.
Nero's most popular greasy spoon, Joe's Kitchen offers a "can't go wrong" daily special, including coffee and soft dessert, for $2.99.
Keepthemunda Creek.
The Keepthemunda Creek provided water power for Nero's early mills. During the industrial heyday, the creek was dirty and smelly, sometimes running red or dark blue, depending on the dyes being used in the sock mills. Now that the mills have closed, the creek is cleaner. The creek's name derives from a Native American language and may mean "place of waters that flow" or "oppress the people."
Keepthemundaville.
The most prosperous section of the town of Keepthemunda, located outside Nero. Keepthemundaville has advanced in population, business development and resident income as Nero has declined. The suburbanites pay a premium for flavored coffee and other necessaries at the Olde Village Plaza, where none of the shops accepts food stamps.
Lou Larrawell.
Lou Larrawell did well in the hardware business, joined the country club and recently sold his business to a national chain. He ran afoul of Nero negativity when he tried to use some of his wealth to start a winter carnival. His motives were questioned by politicians and talk host Mike Van Wilson, who said: "Lou Larrawell is a fat cat who just doesn't
get it."
Don Lesock.
Don Lesock writes a column for the local paper, The Nero Nation. He recently encouraged Nero to become a center for group homes for the mildly retarded, in light of opposition to such a group home in Glenville. Don's idea, which may have been satirical, was cautiously welcomed by one politician, ignored by suburbanites and viewed with skepticism by the retarded citizens organization.
Marty the Bull.
A retired union leader in the Nero sock mills, Marty the Bull was a fearsome character in his day, known for taking care of his own. He now lives in Keepthemundaville, where his children have enjoyed many advantages. Marty's suburban neighbors keep him at arm's length.
Nero Aerodrome.
A small airport with a bumpy runway outside Nero. Like the Albany International Airport, the Nero Aerodrome has few international flights.
Sons of St. Adalbartio.
An ethnic men's club, the Sons offer cheap food and drink to members and guests, card playing on weekend nights, a bowling team, an annual clambake and Christmas party. At the Christmas party, the waitresses wear blinking light corsages that play holiday tunes.
Wanda Tamburino.
Wanda Tamburino is the office manager and constituent problem-fixer for Nero's popular congressman. Time spent trying to solve problems has given her a definite perspective on human nature: "With all the people I've helped, you would think I'd have it made if I went into business around here. But I wouldn't count on it. Nero people might pull a drowning woman from the creek, but she'd be on her own once they got her to shore."

Hayden Waldorf.
Hayden Waldorf's family prospered in the stationery business when times were good in Nero. He was candid in the 1970s when Nero's downtown was gutted for an urban renewal project, saying: "Nobody knows if this is going to work but we have to do something and there's government money available." The 1970s renewal of Nero was fraught with poor ideas - an unpopular sock museum, a downtown hotel with a leaky roof and a parking garage prone to flooding.
Mike Van Wilson.
Mike Van Wilson is the conservative host of "The Never Ending Argument" talk show on WNRO radio and self-proclaimed leader of the local battalion of outraged, grumpy old men. Mike hates Bill Clinton (the First Prevaricator), welfare cheats, the new immigrants and politicians "who just don't get it!"
William and Edgar Yarnworth.
The Yarnworth brothers came from England to found the sock mills, which defined the economic life of Nero for the first two-thirds of the 20th century. The Yarnworths and their offspring are buried on Cemetery Hill in two clusters of graves that reinforce the hierarchy of Nero's first family. It is as if an eternal board meeting has been called and William and Edgar, as usual, are at the head of the table.
Acknowledgments
The first Nero stories appeared from 1993 through 1995 as columns in the Troy Record, whose editors included Rex Smith, Lisa Robert Lewis and Charles Delafuente.
In 1996, Nero found a home at Brad Broyles' courageous Amsterdam paper, The Star. In 1997, Nero tales were printed in Tony Benjamin and Teresa Cuda's formidable Amsterdam paper, The Free Press of the Mohawk Valley. Neither The Star nor The Free Press exists today. I hope Nero had nothing to do with that.
Since 1996, Nero stories have appeared in the opinion section of The Sunday Gazette in Schenectady, edited by Art Clayman.
Several radio-related Nero tales have been reprinted in the national talk radio magazine Talkers, edited by Michael Harrison.
I am grateful to the editors who have printed the news from Nero and am particularly indebted to Art Clayman, who has given Nero its widest audience and whose suggestions have made the stories easier to read.
Special thanks also go to Ruth Peterson of Alplaus, B. John Jablonski of Hagaman and Lewis Carosella of Rotterdam Junction for permission to reprint their articles, which responded to Nero stories.
Illustrations are by the accomplished artist Jeanne A. Benas of Latham. Photographs were provided by the Walter G. Elwood Museum, Montgomery County Department of History and Archives, Elmer Rossi, Jr., and Mrs. Joseph Urbelis. Book and cover design are by Chloe Van Aken.