Bob Cudmore's Biography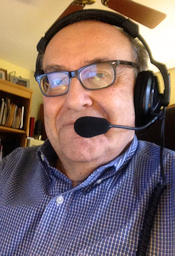 A native of Amsterdam, New York, Bob Cudmore began has radio career at WCSS in that city in 1962 while still in high school.

Cudmore earned bachelor's and master's degrees in English at Boston University. He worked at radio stations WBUR, WCAS and WEEI in the Boston area while in college. From 1968 to 1980 he was a news reporter and morning anchor at WBEC radio in Pittsfield, Massachusetts.

Known for hosting WGY radio's night time talk show Contact from 1980 to 1993, Cudmore next worked in media relations for State University of New York System Administration in Albany from 1993 to 2001.

He was an adjunct professor for more than twenty years in the Department of Communications at the College of St. Rose in Albany.

His first project on local history was to join Steve Dunn to co-produce the WMHT-TV documentary Historic Views of the Carpet City: Amsterdam, N.Y. in 2000.

Previously a columnist for the Troy Record, Cudmore began his now weekly column in the Daily Gazette, Focus on History, in 2001. He has written over seven hundred columns.

His wife of thirty-four years, Mary Pritchard Cudmore, died in 2001.

Cudmore returned to radio, anchoring the morning radio show on WVTL in his home town of Amsterdam from 2004 through 2014. In 2008 he was awarded the Herbert T. Singer Community Service Award by the Montgomery County Chamber of Commerce.

When he left WVTL on November 14, 2014, that day was declared Bob Cudmore Day in Amsterdam by Mayor Ann Thane and the Common Council.

He is the author of four books: Lost Mohawk Valley (2015), Hidden History of the Mohawk Valley (2013), Stories from the Mohawk Valley (2011) and You Can't Go Wrong (2000).

Albany Times Union book reviewer Jack Rightmyer said of Cudmore's books, "He describes a place some generations ago that was filled with factories and tells many compelling stories that would be forgotten, if not for him."

Cudmore narrated a nationally distributed documentary, Dangerous Intimacy: The Untold Story of Mark Twain's Final Years; he co-produced or narrated WMHT-TV documentaries on local downtowns and railroads. He has hosted numerous public television programs and voiced the WMHT series "Age Wise."

Today he hosts the weekly interview podcast The Historians on his Web site www.bobcudmore.com/thehistorians and on www.soundcloud.com. The program also airs on RISE, WMHT's radio service for the print disabled. He hosts Talk of the Town, a weekly radio program featuring Albany Mayor Kathy Sheehan, on Magic 590 WROW AM and 100.5 FM.

Cudmore lives in Glenville with his sweetie Audrey Sears. He has two grown children, Kathleen Cudmore Bokan and Bob Cudmore Junior.
Contact:
Bob Cudmore
Nero Publishing Company
125 Horstman Drive
Glenville, N.Y. 12302
518 346-6657
bobcudmore@yahoo.com